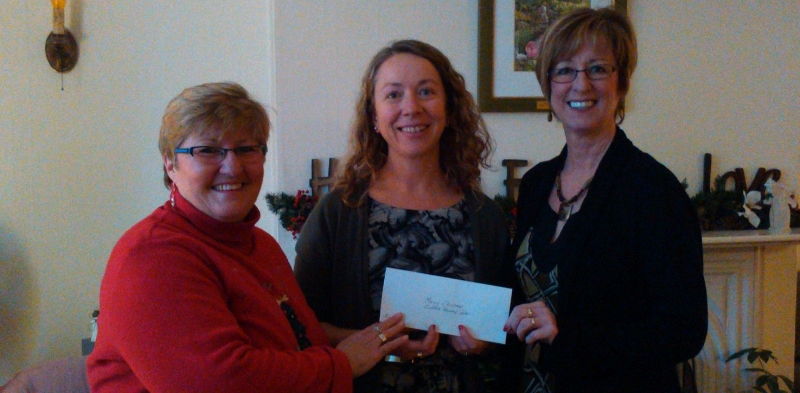 Sea Belles, Atlantic Canada's Number One ladies A Cappella Chorus, have had a busy few months sharing their Holiday Harmonies and good cheer with local nursing homes, malls, public, churches and local charities.
Each year the chorus donates a portion of fund raising profits to two local charities. Cindy Mayo, Sea Belles Charity Coordinator, recently presented a $1000 cheque to both Carolyn McNulty, Executive Director Romero House and Stacey Doyle, Executive Director, Sophia Recovery Centre. (also present was Sue King, Sea Belles Board member). In addition to these financial donations, Sea Belles also collected mitts, hats, and scarves for Romero House patrons at their annual Christmas party.
In November, Sea Belles Concerts also raised $3200 to benefit three churches in Sussex (St Paul's United), Grand Bay (St Matthews Catholic) and Saint John (Cathedral of the Immaculate Conception).
Sea Belles is a 46 year chapter of Harmony, Inc., a volunteer international, non-profit and educational organization for women singers. Sea Belles is grateful for the continued support of the Saint John and surrounding communities to their barbershop style of a cappella music.
Sea Belles resume regular practice Tuesday, January 5th, 7 pm at Forest Hills School. All women who love to sing are welcome! For more information visit their website at www.seabelles.ca