by Lauren Walls, Interior Decorator
The decision to purchase a new piece of upholstered furniture can be a big one. Especially wh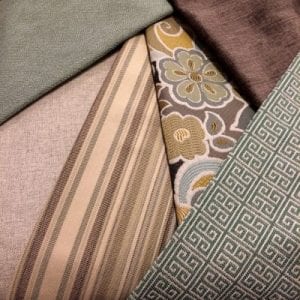 en we have so many fabric options and considerations to make, but that decision can be made easier by asking yourself the following questions.
1. Who uses the sofa?
Fabric durability may or may not be an issue for you depending on your lifestyle. If you have children and or pets you should consider medium to high durability fabrics. Also, it may be best to avoid delicately coloured fabrics that will show stains. Microfibre and leather are good options because they can stand up to heavy use. However, each home is different and each room in your home is used differently. A formal sitting room will not have the same requirements as a high traffic family room where the higher the durability, the better!
2. What style and size is your home?
Traditional or Modern. Formal or Casual. Large or Small. It's important to consider not only which fabric will look best on the sofa itself but also which fabric will work best in your home. A traditional historic home will almost always look better with more traditional style furnishings and fabrics. On the other hand traditional fabrics usually won't work harmoniously with a sleek modern home. In large open spaces it's a easier to be more daring when it comes to colours and fabrics. In a small space a sofa will take up a large portion of the room and can become very overpowering. A lighter coloured neutral fabric will visually open up the space.
3. What "look" are you going for?
A sofa or any other piece of upholstered furniture is something you will be living with for a long time. This is not the time to make a decision based on current trends unless it's something you're sure you LOVE. Neutrals o
n the other hand can be very sophisticated and stylish and can always weather style changes. You must also consider whether you would like the sofa to become a focal point or if it will play more of a supporting-role in your already
decorated space, which is much more common.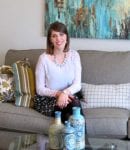 Lauren Walls was born and raised in Miramichi. She completed her degree in Interior Design at the Centre for Arts and Technology in Fredericton. She took six months off to explore and become inspired by Europe and has returned home to join the team at Renaud's BrandSource in the City of Miramichi. Lauren enjoys using her skills and training to beautify any space. For a consultation call her at (506) 773-9408 or email: lhrenauds@gmail.com