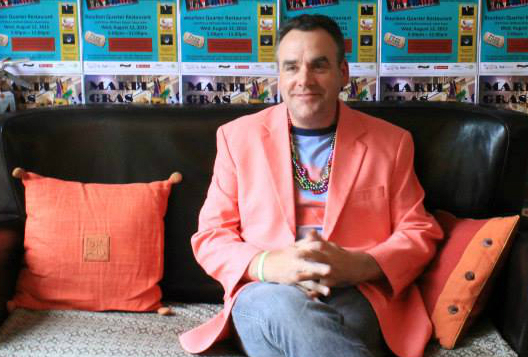 Jeff Liberty is an entertainment entrepreneur, media personality (Host of The Jeff Liberty Show on Bell/ Aliant's TV1/ VOD), CBC music columnist (Take Liberty), Mental Health Advocate and Speaker, as well as dedicated husband and father.
Thanks to Jeff and his extensive knowledge and experience in the music business, we've had opportunity to enjoy some of the best shows around, right here in our uptown venues. Jeff continues to bring high calibre artists with gigs happening regularly, as well as always supporting our local talent. Always bearing a charming, perhaps a bit impish smile, Jeff recognizes the importance of mental health, and integrates support for this cause by presenting always popular fundraising shows and events.
Let's get to know Jeff …
Where were you born? Where are you from?
I was born in Ottawa and raised in a small farming town east of the nations capital called Clarence Creek. I lived in Montreal for a few years as well. For the last 14 years I have lived here in this beautiful part of the world!
How long have you been a part of the uptown scene?
I started being involved with producing shows in uptown Saint John about 8 years ago now on a regular basis. The first gig I hosted was with The Northern Pikes at O'Leary's which was over a decade ago now. All my other regular gigs (since) take place at the Magnolia Café/ Bourbon Quarter.
Who you look to for inspiration?
My wife Cynthia is my biggest inspiration. She is the most creative, gifted, loving and nurturing women I have ever known. I'd follow her anywhere! She also keeps me on point, which believe me is an art in itself. 🙂
What is your favourite season, and why?
My favourite season without a doubt is Fall. It's the only season we can truly count on. I love one of those perfect fall days, sun shining, cool breeze. Sweater weather! And no mosquitoes is a bonus!
What is your ultimate favourite snack food?
Presently I crave organic pears. I cut them in slices and sprinkle a little Cinnamon on them. Usually two at a time. Another new favourite is having a few slices of my "Glutino" bread toasted with "Earth Balance" coconut & peanut butter (vegan and GF) spread, YUM! Maybe most of all, my wife's Cynfully Delicious gluten free grenouilles. Check out her food here.
Coffee, tea, or other?
I love a good coffee, black with honey in it. Tea, must be Yorkshire. And water.
Any pets?
My beautiful cat Gus (Gustav) has sadly left us. I want to get another cat soon. I'm a cat lover. I love all animals.
Most guilty pleasure?
You should never feel guilty of anything that gives you pleasure. If I had to choose one I'd say really well crafted pop music. For days I've been singing to myself One Direction's hit "Story Of My Life". Is that ever a catchy ear worm!
Worst habit?
I take on too much at times. I get excited about an idea/ project and get carried away in the possibilities of it all. I've learned how to reign myself in and focus on what needs and deserves the attention most. There are plenty more but I won't bore you with them all. My worst habits are a lot better than they use to be!
Favourite Musician?
My favourite songwriter is the late Townes Van Zandt. TVZ is a "songwriters songwriter." His music changed my life! Music has always been therapy for me in a very real way. Other favourites include; Bill Wood, Jay Semko, Alan Frew, George Michael, and Mary Margaret O'Hara!
What is your Uptown Insider Tip?
I love getting coffee at Second Cup on King St. Their gluten free brownies are amazing! I love the Bourbon Quarter, of course, as well as Britt's Pub and Eatery on Princess Street. Backstreet Records is where I buy most of my music. You always have great conversations in there as well. I really love the Feel Good Store. Perfect place to buy a gift for that hard to buy for person.
Find Jeff
Twitter: @jlibertyartists
CBC (Take Liberty): cbc.ca/player (Go to radio then Local, Information Morning in Saint John – 91.3 FM)
The Jeff Liberty Show –www.facebook.com/TheJeffLibertyShow
LibertysLostYear (Jeff's Mental Health Advocacy page) – www.facebook.com/Libertyslostyear-1386442901676912