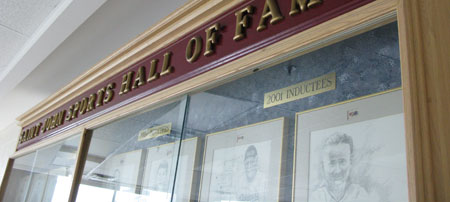 On Thursday, October 22, 2015, four individuals and one sport team will be inducted into the Saint John Sports Hall of Fame.  The selection committee is pleased to announce its 2015 inductees:
Rorri Currie – Athlete; Steeplechase
Jason Spalding – Athlete; Javelin Throw
Wade Blanchard – Athlete; Curling
Adam Dupuis – Athlete; Boxing (posthumously)
Saint John Vito's 1992 Allan Cup Champions – Team; Hockey
Tickets are $60 each and are available for purchase from the Leisure Services Building at 171 Adelaide Street.  The banquet will be held on Thursday evening, October 22, 2015 at the Delta Brunswick. The reception begins at 6:00 PM with the banquet beginning at 7:00 PM.
Advertising opportunities are also available in the souvenir programme to congratulate one or all of the 2015 inductees. Call 658-4521 or email lori.lambert@saintjohn.ca
The Saint John Sports Hall of Fame has honoured local athletes, coaches, officials, teams and sport builders since 1988.  Showcased in Harbour Station, the Hall of Fame spans decades of achievements in a broad spectrum of sports and stands as a tribute to Greater Saint John's sports legacy.