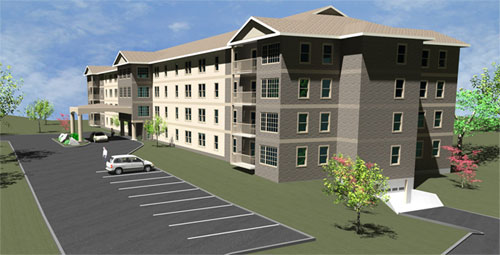 The governments of Canada and New Brunswick joined today to mark construction progress on Vimy Estates, a new 62-unit development which contains 36 new affordable housing units for low-income seniors and persons with disabilities.
Rodney Weston, Member of Parliament for Saint John, on behalf of the Honourable Candice Bergen, Minister of State (Social Development), along with the Honourable Ed Doherty, New Brunswick Minister of Government Services, on behalf of the Honourable Cathy Rogers, New Brunswick Minister of Social Development, gathered to visit the construction site.
"Our Government is helping to make affordable housing available in New Brunswick and across Canada," said MP Weston. "These new units will help seniors access affordable rental housing that meets their needs, and remain close to their family and friends in the community."
"Making life easier and more affordable for all New Brunswickers is one our government top priorities," said Minister Doherty, "By maintaining a key role into this partnership among governments, businesses, communities and non-profit organizations, New Brunswick moves forward in meeting the needs of those who need it most."
The complex, developed by Vimy Estates Inc., is located at 190 Churchill Boulevard.
Funding for the new units was provided through the Canada-New Brunswick Investment in Affordable Housing 2011-2014 Extension Agreement, including $320,000 from the federal government and $750,000 in rent supplements from the provincial government. This comes as a result of the $78 million Investment in Affordable Housing 2014-2019 Extension Agreement between the Government of Canada and New Brunswick.
Additional funding of more than $3.3 million was provided through Canada's Economic Action Plan (2009) – Housing for Low-Income Seniors. This includes $1.12 million in federal funding and more than $2.2 million in rent supplements from the provincial government. The federal and provincial governments contributed equally to an overall investment of $75 million under the amended Canada – New Brunswick Affordable Housing Program Agreement.
Annually, the Government of Canada, through Canada Mortgage and Housing Corporation (CMHC), will invest approximately $2 billion in housing. These investments improve the quality of life for low-income Canadians and households living in existing social housing, including individuals who are homeless or at risk of homelessness, seniors, persons with disabilities, recent immigrants and Aboriginal people. Economic Action Plan 2013 continued this commitment with a federal investment of more than $1.25 billion over five years to renew the Investment in Affordable Housing to 2019. The Government of Canada will ensure that funds provided to provinces and territories support the use of apprentices, which will support training of skilled labour.
The affordable housing options are helping to move New Brunswick forward by ensuring low-income families and persons with disabilities, seniors, non-elderly singles, disabled persons and persons with special needs enjoy a better quality of life. Funding is available to private non-profit organizations, co-operatives, and community or private entrepreneurs interested in developing such projects. For more information on affordable housing projects in New Brunswick, visit www.gnb.ca/socialdevelopment.
To find out more about how the Government of Canada and CMHC help Canadians meet their housing needs, call CMHC at 1-800-668-2642 or visit www.cmhc-schl.gc.ca.
FOR FURTHER INFORMATION PLEASE CONTACT:
Media contacts:
Caroline Arsenault
Public Affairs Manager
Canada Mortgage and Housing Corporation
Cell: 902-452-4448
Office: 902-426-8127