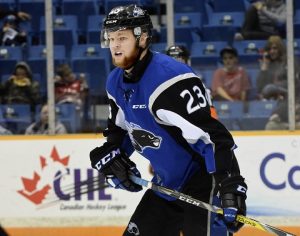 The Saint John Sea Dogs announced last week that defenceman Oliver Felixson has been diagnosed with Hodgkin Lymphoma.
The diagnosis was confirmed by Horizon NB medical staff at the Saint John Regional Hospital. It is the same type of cancer diagnosed in Pittsburgh Penguins' superstar Mario Lemieux in 1993.
"Hodgkin Lymphoma is a cancer of the blood and lymph nodes," said Dr. Elizabeth Zed of Horizon NB, a member of the medical team working with Felixson. "It is a treatable and potentially curable cancer. Treatment depends on individual patient factors and consists of chemotherapy and/or radiation."
Felixson, the native of Helsinki, Finland, has two goals and nine points in 55 games in his second season in with the Sea Dogs. The 18-year-old will be out of the lineup indefinitely while seeking treatment.
"As I'm sure you can imagine, this news came as a complete shock to me and to my family," Felixson said, in a statement. "The past few days have been difficult, but they have been made easier by the presence of my parents, who flew over from Finland when we received my diagnosis. I am also thankful to have the full support of the entire Sea Dogs organization, my billets, teammates, coaches and staff."
"This news has affected everyone in the organization," said Sea Dogs President and General Manager Trevor Georgie. "Oliver is our friend and teammate, and a member of our family. We are all with him as he meets this challenge."
The Sea Dogs ask that Oliver's privacy, and that of his family, be respected while he is in treatment.
There will be no further comment at this time.