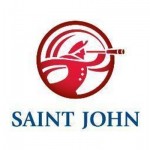 The City of Saint John advises drivers that from 9 am to 6 pm this Sunday October 30th traffic lights will be flashing or off at the intersections of Rothesay Avenue/ McAllister Drive and Golden Grove Road/ McAllister Drive while the lights are being repaired.
Flaggers will be present at the intersection of Rothesay Avenue/ McAllister Drive.
Motorists are advised to plan their travel accordingly, reduce speeds in construction zones, observe signage and drive safely. Work commencement and completion times are subject to change. Weather permitting.