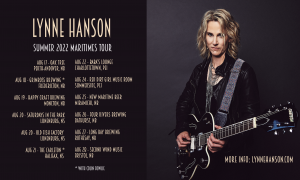 Award-winning Canadian songwriter Lynne Hanson returns to the Maritimes this month hot on the heels of Spring album release tours in the United States, England, and Europe. Hanson will play 12 shows in 12 days across Nova Scotia, New Brunswick and Prince Edward Island:
Aug 17 – PERTH-ANDOVER, NB – Oak Tree
Aug 18 – FREDERICTON, NB – Grimross Brewing w / Colin Fowlie
Aug 19 – MONCTON, NB – Happy Craft Brewing
Aug 20 – LUNENBURG, NS – Saturdays In The Park (2pm)
Aug 20 – LUNENBURG, NS – Old Fish Factory (8pm)
Aug 21 – HALIFAX, NS – The Carleton w / Colin Fowlie
Aug 22 – CHARLOTTETOWN, PEI – Baba's Lounge w / Abi
Aug 24 – SUMMERSIDE, PEI – Red Dirt Girl Music Room
Aug 25 – MIRAMICHI, NB – New Maritime Beer
Aug 26 – BATHURST, NB – Four Rivers Brewing
Aug 27 – ROTHESAY, NB – Long Bay Brewing
Aug 28 – FLORENCEVILLE-BRISTOL, NB – Second Wind Music
Too tough for folk and too blues-influenced for country, Lynne Hanson's brand of porch music with a little red dirt can turn on a dime from a sunshine, blue sky ballad to a full-on thunderstorm of gritty Americana swamp from one song to the next. Her hard-living music has garnered her the nickname "Canada's Queen of Americana." And while her deep, bluesy croon has drawn comparisons to Lucinda Williams and Gillian Welch, it's the poetry of her lyrics that really sets her apart.
Hanson is known for her high energy, roots guitar driven live performances, whether playing solo or with her band the Good Intentions. She has an uncanny way of connecting with her audience with an authenticity that is as entertaining as it is disarming bringing her sense of humour and spontaneity as a storyteller to the fore.
"On stage Hanson has a wonderful charm and disarming sense of humour … a spontaneity and honesty that enchants." – Americana UK
The prolific songwriter has released eight studio albums along with two books of poetry over her 16-year solo career.  Lynne Hanson is a two-time Canadian Folk Music Award winner, a recipient of the Colleen Peterson Songwriting Award, winner of the Blues and Roots Radio International Song Contest, two-time Folk Music Ontario Blues Award winner, a two-time Indie Acoustic Project Alt-Country album of the year winner, and a two-time Kerrville New Folk finalist.
"A contemporary blend of both mainstream hip & retro musicality … Her voice potentiates popular music with modern sensitivity that's effective & assertive … Lynne Hanson is that good an artist." – Americana Highways
Hanson is an international touring artist, having performed at festivals and venues across Canada, the United States, Europe, and the United Kingdom. Hanson has appeared at leading international festivals including Take Root (Netherlands), Glasgow Americana (Scotland), Maverick Festival (UK), Kerrville Folk Festival (US), and Winnipeg Folk Festival (Canada). She's toured as support for Grammy-nominated artists like Gretchen Peters, Steve Forbert, and Albert Lee.
Her new album 'Ice Cream In November' was released on April 22, 2022.
Soundcloud streaming link – 'Ice Cream In November':  
https://soundcloud.com/lynnehanson/sets/ice-cream-in-november
Lynne Hanson Online
Artist website:  http://www.lynnehanson.com
YouTube:  http://www.youtube.com/lynnehanson
Instagram: https://www.instagram.com/plynnehanson
Twitter: https://twitter.com/lynnehanson
Facebook: https://www.facebook.com/lynnehansonmusic
For more information, please contact:
Lynne Hanson / +1-613-878-0177 / plhanson@gmail.com
https://www.lynnehanson.com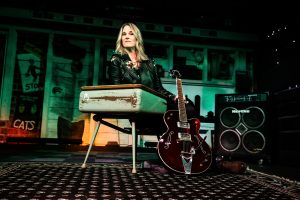 Posted by: Lynne Hanson