This week Uptown Saint John welcomed a new business member to the neighbourhood! Jonah has been a barber for five years and opened his own shop on March 29th. The view out from his fourth-floor windows is a fantastic view of the Saint John Harbour. In the future, he will be adding a second station to bring on another barber in this shop as well.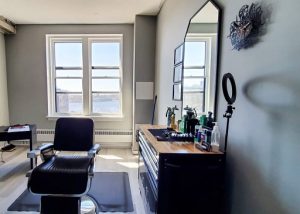 He has an online booking done through his website. Accepted payment methods, including pre-payment with a credit card, e-transfer, and cash.
Find:
Stellar Barbershop
89 Canterbury St, suite 404
(506) 663-5779Book Online: https://getsquire.com/barbershops/book/stellar-barbershop-st-john/professional
The post Welcome New Business: Stellar Barbershop appeared first on Uptown Saint John.