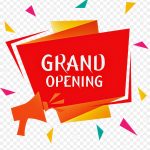 You are all invited to come check out our new location and wide selection of new Winter Tires and Rims! Discount Tire has opened its second location at 181 Main Street. Sussex
Please come join us at our official 
 𝐆𝐫𝐚𝐧𝐝 𝐎𝐩𝐞𝐧𝐢𝐧𝐠 𝐄𝐯𝐞𝐧𝐭 
 on 𝐒𝐚𝐭𝐮𝐫𝐝𝐚𝐲, 𝐎𝐜𝐭𝐨𝐛𝐞𝐫 𝟐𝟑𝐫𝐝 𝐟𝐫𝐨𝐦 𝟏𝟎𝐀𝐌 – 𝟐𝐏𝐌!
Enjoy a BBQ where you can meet our staff, get to know us, donate to a charity, and see what we can offer YOU and the community! There will be prizes and draws for our attendees. Proceeds will be donated to the Heart & Stroke NB – Heart and Stroke Foundation of New Brunswick! 
We cannot wait to see you all there! 
Where: Discount Tire Sussex, 181 Main St. Sussex, NB.
When: Saturday, October 23rd, 10AM – 2PM
(506) 271-1818