Goss Walks n' Talks 
GREAT NEWS – GOSS WALKS n' TALKS begin in a week. Walks n' Talks with David Goss Fall 2020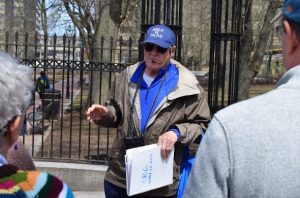 This will be the 42nd series of this popular program, and will be much different from any of the previous seasons as it will be operated under the conditions of the Covid-19 pandemic.
It will require all participants to register via David Goss's email account (gosswalk@nbnet.nb.ca) or by phone at 672- 8601.
The exact start point for each walk will be communicated by return email or return phone call, and all participants upon arrival on site will have to assure they meet social gathering criteria, sign in, wear masks, and practice social distancing.
Each walk is limited to 30 participants.
There will be no one admitted at the last minute, and registrants cannot bring a friend or companion that has not registered.
All the Sunday Stroll Walks at 2:00 p.m. and will be Free through sponsorship of Discover Saint John or Fernhill Cemetery, except two, which are being held as fundraisers for the Trinity Tower Project and a donation is requested for these walks. The walks are 1.5 hours and about 2 kilometers in distance. Register anytime but cutoff is the Saturday before the walk by 6:00 p.m,* except see below*
The Frightful Friday Ghosts Walks are limited to 20 people, same rules as above, and require preregistration, and a fee of $15.00 which is payable via an electronic transfer through gosswalk@nbnet.nb.ca. Register by 600 p.m. the Thursday before the walk. If it is wet one hour before the walks, call 672-8601 as if the walk is cancelled, it will be announced on a recording,(* except Sept 6) and the alternate time and place given. For Sundays, it will be Monday night at 7:00 (rain or shine) and for Fridays, it will be moved to Saturday night, or if wet then, Sunday night at 7:00. (Except Sept 06, changes will be recorded one hour before walk on 672-8601).
Sunday, September 06 at 2:00 p.m.: Katherine Biggs Craft once again explores the Shaarei Zedek Cemetery in Fernhill. There were a number of Jewish men and women who were born in Saint John or who lived here for some time before venturing elsewhere to establish careers and make their mark on the world. But each of them left a permanent link to Saint John which can be found among the Jewish graves. Let's explore those family connections to "home". *Registration cutoff for this walk is Friday, Sept 4 at 6:00 p.m. If wet, moved to Monday night.
Sunday, September 13 at 2:00 p.m.: David Goss will share the most interesting historical stories discovered in studying the stones while leading walks in Fernhill over the past two decades. Free -Sponsor Fernhill Cemetery.
Sunday, September 20 at 2:00 p.m.: Retired Geologist Bill Gardiner will share the stories of the stones used in the construction of the heritage buildings in the Trinity Royal Heritage District. What are they, how were they formed, where in the province did they come from, how were they fashioned, how much longer will they last will be some of the details covered. Proceeds of the walk will go toward the Tower restoration at Trinity. All participants will be expected to make a donation.
Sunday, September 27 at 2:00 p.m.: Harold E. Wright will continue his alphabetic exploration of the stones in Fernhill, concentrating on the Small Lot burials and the letters B, C, F, H, I, J, M, P and W. This tour will include the placing of a marker on the unmarked grave of an immigrant. Free – Sponsor Fernhill Cemetery.
Sunday, October 04 at 2:00 p.m.: David Goss will lead a walk sharing stories from his latest book "Saint John Seasonal Snippets", exactly where they happened in the uptown. Hear about Rajah Raboid's blindfolded drive through the city, when King's Square had its own kitty, how buses were built at the Golden Ball Garage, when the area had a 'plunge bath' etc. This walk will benefit the Trinity Tower Fund. A donation will be expected. Signed copies of the book for sale at $20.00.
Sunday, October 11 at 2:00 p.m.: David Goss will share the story of how Thanksgiving has been celebrated over the decades as we walk the Uptown area, We will admire the beauty of the autumn trees in King's Square and share their stories in fact and folklore. Free. Sponsor – Discover Saint John.
Sunday, October 18 at 2:00 p.m.: Led by David Goss and others who will share Stories, Songs and Sagas of the Sea relevant to Saint John and the Bay of Fundy as we walk Harbour Passage to the lookout near the new Fort LaTour development. Free. Sponsor – Discover Saint John.
Sunday, October 25 at 2:00 p.m.: Led by David Goss, on this Sunday nearest to Halloween, we will walk through Fernhill Cemetery and share the story of How Halloween developed, how it has been celebrated in Saint John, and also tell a couple stories that will show why it is the scariest night of the year. Free – Sponsor Fernhill Cemetery. Some scary decorations can be won on this walk.
Frightful Ghost Walks in Uptown Saint John.
Friday, September 25, and Friday, October 23 at 7:00 p.m.
David Goss is preparing a new edition of his sold out book "Saint John Ghosts", and will share some of the new stories he has collected, as well as some of the old standards on these two Friday night walks. Just in time for Halloween, you will learn old and new stories and how to present tales of terror to your own little ones in case they can't get out for the usual trick and treating.
There will be prizes to be won, so come in costume. Participants (20 only) have to register and pay by sending an electronic transfer of $15.00 to
gosswalk@nbnet.nb.ca
.
Once that is received, the meeting place for the walk will be sent back to the participant.
These details are courtesy of E. Harold Wright and were first found at: https://www.facebook.com/eh.wright.5/posts/3498861780164139