9th Annual Full Moon Paddle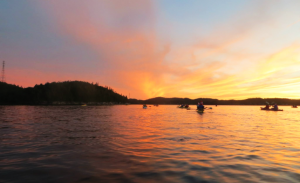 The 9th Annual Full Moon Paddle will be happening on Thursday, September 3rd, 2020 beginning at 6 pm at the Dominion Park.
This popular tour has limited space so please email gofundyfullmoonpaddle@gmail.com to reserve your spot.
We launch from Dominion Park beach for a fun, relaxing paddle out to the start of the Narrows (the channel to Reversing Falls Rapids) where the full moon will be raising for us to celebrate.
This 2020 Full Moon Paddle will be in support of Shining Horizons Therapeutic Riding Association, with proceeds going to a donation.
We will arrive back to the beach for some refreshments, snacks and perhaps maybe even some special treats along the way. $50 per person provides all gear and boat (based on doubles) $25 if bringing your own boat (this fee is to cover the cost of the guides).
The registration is based on first in for email, and we will confirm as these are received.
We will hold spots without payment until August 28th then it will be payment required to secure spots, we like to ensure the weather will be good so we do not have to refund if weather looks bad.
This is all about family, fun & friendship so, come have some fun with Go Fundy Events and lets celebrate the Full Moon on the Wolastog River!