The Complete Works of William Shakespeare (abridged)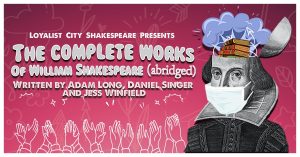 Written by: Adam Long, Dan Singer and Jess Winfield.
It will be held from Tuesday, September 22nd to Saturday, September 26th, 2020 at the Saint John Theatre Company, 112 Charlotte Street, Saint John, New Brunswick.
A fast-paced parody of 37 of Shakespeare's plays in 97 minutes! Sit back and get ready to watch three actors weave their way through Shakespeare's Comedies, Histories and Tragedies in one wild ride!