Amazeatorium 2020 – A Magical Day of Play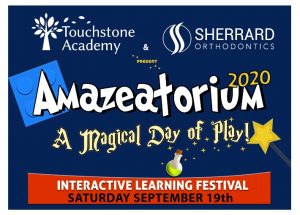 Touchstone Academy and Sherrard Orthodontics present Amazeatorium 2020 – A Magical Day of Play  on Saturday, September 19th, 2020 from 9:30 am to 5:00 pm at the TD Station, Saint John, New Brunswick.
A Magical Day of Play! The best family day out of the year is back in Saint John with even more play-based learning fun for all the family!
Over 70 booths will offer everything from science experiments, to art, live animals, robots, music, and lots more.
Harry Potter fans can look forward to a Quidditch court and Hogwarts Hall complete with a sorting hat station, wand-making station, broom riding workshop and Jungle Jim's magical show, "Professor Jungleflick's Hogwarts Training Academy."
LEGO Certified Pro builder Robin Sather (with his mountains of LEGO bricks) will also be on site with new and amazing magic-themed giant sculptures.