Thank You Canada Skating Tour and Meet and Greet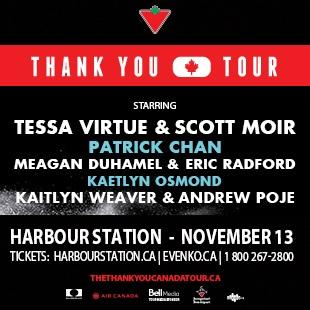 Canada has produced the most talented figure skaters in the history of the sport with household names like Virtue, Moir, Chan, Osmond, Stojko and more who have reached the pinnacle of the sport in the Canadian Nationals, World Titles and Olympic Games.
As a 'thank you' to their home country, these Canadian greats will embark on The Thank You Canada Tour, presented by Round Room.
All this is happening on Tuesday, November 13th, 2018 at Harbour Station, 99 Station Street, Saint John, New Brunswick! Doors open at 6:00pm, and these events to start at 7:00pm!
The 2018 tour cast features five-time Olympic Medalists, three-time World Champions and eight-time National Champions Tessa Virtue & Scott Moir; three-time Olympic Medalist, three time World Champion, and ten-time National Champion Patrick Chan; three-time Olympic Medalist, four-time World Medalist, seven-time National Champions Meagan Duhamel & Eric Radford; three-time Olympic Medalist, three-time National Champion, World Champion Kaetlyn Osmond.
You must have an event ticket to participate. The event ticket is not included. One (1) upgrade entitles one (1) person to attend.
When you purchase THE THANK YOU CANADA TOUR Meet & Greet Upgrade, you get a once in a lifetime chance to meet and interact with some true Canadian heroes.
But that's not all – while you're waiting your turn in line, you'll be able to take some pictures with a collection of National Champion, World Champion and Olympic medals (some of them Gold!), competition worn costumes, and other memorabilia that has never been seen outside of our cast's living rooms or on a TV screen.
Each participant needs to have an upgrade ticket.
Here's how it works: The Meet & Greet happens at the end of the show where after screaming and clapping all night you'll want some water and we'll have it there for you.
You will be in a cue where you'll meet and take pictures with all the available members of that nights cast.
To be fair to everyone involved and to make sure that everyone has the best time, we request that you only get ONE item signed and ONE picture taken while you are with the skaters.
Meet & Greet Upgrade purchasers should go to the check-in table prior to the event to pick up the Meet & Greet passes and instructions for after the show.
We look forward to seeing you after the show!
For more information, including pricing and tickets visit:
http://www.harbourstation.ca/event/thank-you-canada-skating-tour-1
http://www.harbourstation.ca/event/thank-you-canada-skating-tour-meet-and-greet
Find these events on Facebook:
https://www.facebook.com/events/839349259590665/
https://www.facebook.com/events/2062449787130163/
Saint John Online Events Calendar:
http://saintjohnonline.com/Community/Calendar/event.aspx?i=7380