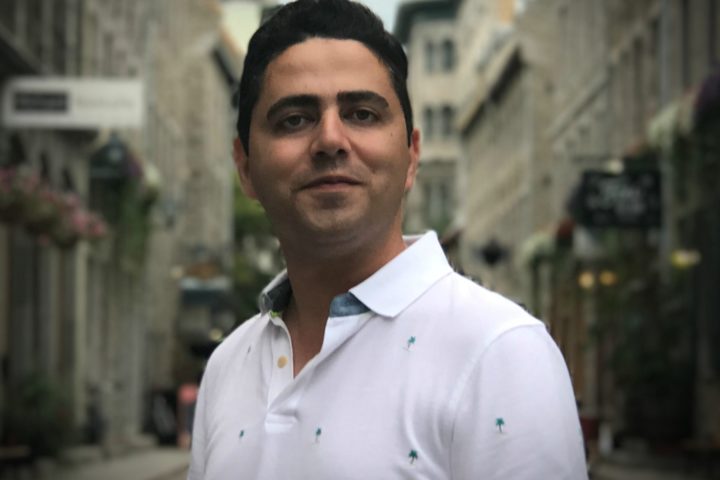 Innovation can be time-consuming and costly, but with a little investment and support, it can pay off in big ways by changing the way people visit, live, work, play and move around a community.  Milad Pirayegar wants to be part of that. He is one of five winners of ESJ'S Smart and Connected Data Project's,Innovation Challenge receiving $25,000 in funding to solve a business or community challenge using data or connected technology.
Pirayegar, who is a Ph.D candidate, along with UNB professors Greg Fleet and Rob Moir started Smart Food Security to create a platform that will better support Food Banks and their clients.
"I realized that having access to real-time data about low-income families and individuals suffering from poverty is a major issue for poverty-reduction projects. The ultimate goal is building a comprehensive and interconnected platform for various target groups, such as food bank managers/employees, vulnerable individuals, donors/volunteers, policy-makers, and key stakeholders," says Pirayegar.
As an urban planner and social scientist Pirayegar says he wants to see his project make a positive impact on our region and beyond.
"I realized that this project has big potential to become a successful startup. A lack of an integrated data management platform for food banks is not an issue restricted to the City of Saint John; there is no real-time database looking at low-income families across the world," adds Pirayegar.
Saint John Energy will also receive funding through the data project to pursue more research into solar energy
"This project is an open data project allowing customers to learn right alongside with Saint John Energy, so they are able to make informed decisions for themselves.  We hope that the learnings from this project will help shape future investment decisions in the solar space leading to either a solar panel rental program or a community solar project that can be offered to the residents of Saint John," says Ryan Mitchell, Vice President for Saint John Energy.
Local company NexGen was hired to design and construct a solar testing station where solar panels were installed in March. Electricity production data is being collected to help determine how different variations of angles and layouts of panels impacts performance. ESJ's data project will provide a centralized data platform to house all the solar generation data, weather data, and Saint John Energy system data that will then be analyzed by its project team that includes researchers at UNB and renewable energy experts at Fundy Engineering.
"Since it has the capability to provide hundreds of variations of data points, the Smart & Connected Data Project will allow a larger group of experts to collaborate on the results of the data and maximize the outcome of the study," says Mark McAloon, who is in charge of project development at NexGen.
The other recipients include the City of Saint John which is exploring a Snow Removal Vehicle Location Data Project, Botrow Technologies that's building a cash-free payment and data tracking platform in partnership with City of Saint John Transit and Sensory Friendly Solutions that's working on an online platform to help people with sensory-sensitivities engage more comfortably with activities and events.  They will each have 12 months to develop and implement their pilot projects.
The Innovation Challenge was first announced in the spring of 2018 to spur innovation and economic growth using the Smart and Connected Data Project as the catalyst. The Smart & Connected Data Project is a 3-year initiative, funded by partners at the federal and provincial levels.  It is designed to support companies and organizations in harnessing the power of data to drive business value and solve industry and community challenges.
Stay up to date on all the pilot projects at: www.smartandconnected.ca/projects .