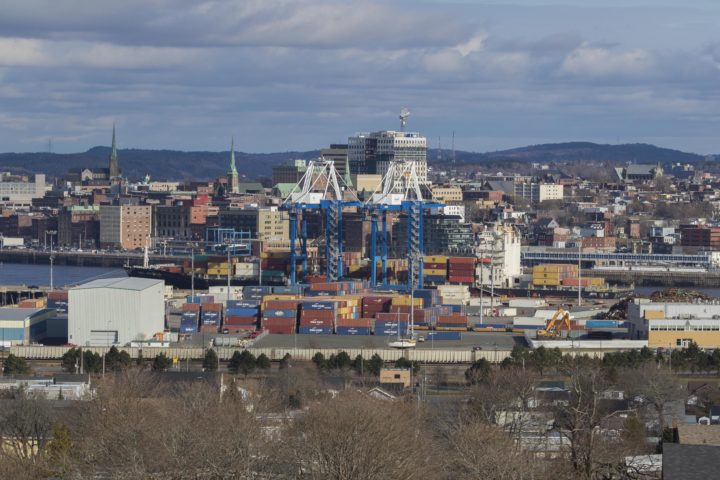 Posted on  by Eleanor MacLean
With connections to more than 500 global ports on a weekly basis, and as Canada's third-busiest port authority by tonnage, Port Saint John is a powerful driver of economic development for our region, striving to leverage business in other parts of New Brunswick and beyond through new initiatives.
Saint John was recently named Canada's 10th Foreign Trade Zone (FTZ), with Enterprise Saint John serving as the single point of access to government programs and services of benefit to import- and export-related businesses. This is good news for the city and region, according to Jim Quinn, the CEO of Port Saint John and board chair for Saint John Region Chamber.
"Status as a Foreign Trade Zone comes from years of hard work, which Port Saint John and Enterprise Saint John achieved by getting the necessary partners in a room and demonstrating how our entire region could stand to profit," says Quinn.
Some of the pre-requisites for the FTZ designation include connection to global markets, available land for warehousing operations, alignment between government agencies, and access to a skilled workforce.
"Canada's Foreign Trade Zones can offer businesses many attractive benefits, including deferral of import duties, drawback of fees paid, and duty-free storage of materials, among others. This FTZ Point can help businesses who may import materials used during their manufacturing process, and it can also be an advantage for international businesses looking to establish operations in our region – creating more jobs, making more products here, and broadening our tax base in the process," adds Ian McCoy, Director of Investment Attraction with Enterprise Saint John and lead on the FTZ Point.
There are many possible scenarios where businesses could take advantage of FTZ programs and services, and Port Saint John is looking to play a role in serving all of them.
"The port wants to attract businesses here and provide the infrastructure to allow them to operate efficiently. Part of that equation is ensuring port services are available at affordable costs, and the FTZ can help reduce costs for businesses, create opportunities, keep them competitive and evolve commerce in Saint John," says Quinn.
Quinn points to the 1970s, when there were 15 shipping lines delivering small-scale products to Saint John. Then things changed: ships got larger; there was consolidation in shipping companies; and, shifts in government policy – all of which led to most container cargo heading straight to Halifax. This amounted to a huge impact on Port Saint John's container operations.
"Although imports remained low, container traffic exports doubled at Port Saint John during the past six years, with New Brunswick goods going to global markets in Asia and the Caribbean. Now we are starting to see another shift with slow growth on the import side as well – from Australia, Chile, Mexico, and Peru – which we aim to continue."
Balancing trade is important and a healthy mix of export and import activities are important to Port Saint John and ultimately, the Saint John region.
"Our region's industrial potential is huge. As the regional economic development agency, we want to help break down barriers to business and work with the port to send more New Brunswick-made products out into the world, but also reinforce to the world, Port Saint John is a key component and advantage in our region's economic engine," say McCoy.
Enterprise Saint John will host a session in the fall for businesses interested in learning more about the potential of the FTZ Point, what programs are available to them and how they can get the answers they need to any question they have around importing and exporting products. Business owners with questions now, can contact info@enterprisesj.com.  For more information on the FTZ Point go, here.