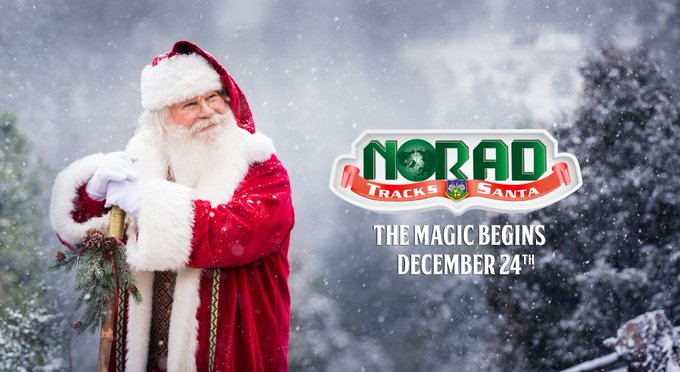 Posted on Friday, December 22, 2017
Are the kids getting anxious for the arrival of Santa Claus?  Well there is a way to track his flight on Sunday, thanks to the help of North American Air Space Defence, Or NORAD as it is commonly known.
This is the 62nd year that NORAD has been helping keep Santa save on his journey around the world delivering presents to all of the good girls and boys.
Santa will begin his journey at around 3am, from the Arctic, and NORAD will follow him using radars as he travels through New Zealand, Australia, into Asia, Africa and Europe.
Major Andrew Hennessy says Jolly Ole St. Nick will begin his flight at around 3am on Sunday morning, and that's when the tracking will begin, "We want to make sure that when he is in North American air space, that he is able to safely deliver all of his presents.  Santa is really the star of the show. We just want to help provide the information to kids and others who might want to know where he is and when he is coming."
Major Hennessy also told us how they are able to track Santa's sleigh, "We're able to track Rudolph's nose, much in the same way as they use our infra-red censors and satellites to track a missile launch anywhere in the world. When Santa gets into North American air space, he will be greeted by two CF-18 fighter jets, who are out of Quebec.  He will slow down for that, thankfully, as he travels much faster than us."
If you are wondering how this tracking system began, 62 years ago?
"It started in Colorado Springs, with an ad that was printed in a local newspaper.  It was a Sears ad, and a young child misdialed the number that was printed.  He ended up connecting with the Continental Air Defence Region, which is the predecessor to NORAD. He reached the Colonel who was running the Operation Centre that night and the child asked for an update on Santa, and when could he see him.  The Colonel played along, and we've carried that tradition on giving updates on Santa since then,"  Hennessy says.
If you're looking to get an update, visit NORADSanta.org, or you can give them a call at 1-877-HI-SANTA