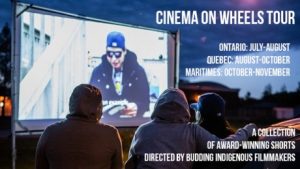 Maritime audiences are getting the chance to see a host of Indigenous youth films as the Wapikoni Cinema on Wheels makes its way to the East Coast.
Cinema on Wheels is a travelling caravan full of exterior projection equipment that's spent most of the year travelling from coast to coast showcasing award-winning short films made by Indigenous youth from across the country.
The films on display are a collection from the Wapikoni workshop, a mobile movie-making project that allows young Indigenous people in First Nation communities to make their own films.
It was created in 2004 in honour of community leader Wapikoni Awashish.
"It's a great creative outlet," Geronimo Inutiq, a facilitator and projectionist with Cinema on Wheels, told CBC's Information Morning: Moncton.
"It's really great for the youth to express themselves, to discover more about the filmmaking process to get their voices out there."
Over 1,000 films made in 13 years
Since 2004, Indigenous youth from across the country have used Wapikoni to make over 1,000 short films.
The project is a way to help break the isolation of some of these youth and to help them express themselves through film and get their voices heard, said Inutiq.
An array of films have been made by youth so far, everything from horror flicks to music videos, and animated shorts to films that tackle larger socioeconomic issues in Indigenous communities.
No topic is off limits, which leads to a fascinating list of stories being told.
Inutiq said some of the films have been featured at film festivals like Sundance, the Toronto International Film Festival, the Montreal International Documentary Festival and the Cannes Film Market.
"The process of storytelling is quite rich," he added.
"We've been telling the rest of Canada that these stories may come from Indigenous youth and communities, but really they should speak to all of us."
The tour stopped in Elsipogtog First Nation on Wednesday and Moncton on Thursday.The New Brunswick leg of their journey has ended and the travelling showcase will make it's way to P.E.I. in the coming days and Nova Scotia later this month.