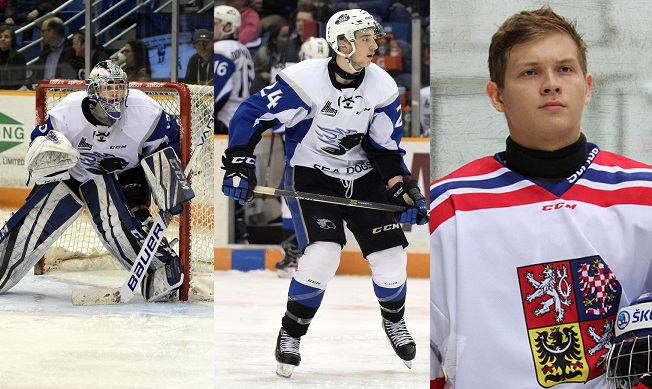 Three Saint John Sea Dogs left today for National Hockey League rookie camps.
Centre Cedric Pare will attend camp with the Boston Bruins, the team which selected him in the sixth round of the 2017 NHL Draft. The Bruins are scheduled to participate in the four-team Prospects Challenge rookie tournament in Buffalo, New York, starting Friday. Boston's rookie camp roster also includes Pare's former teammate Jakub Zboril.
Forward Ostap Safin is off to camp with the Edmonton Oilers, which selected him in the fourth round of the 2017 NHL Draft. The Oilers are part of the four-team Young Stars Classic rookie tournament in Penticton, British Columbia, starting Friday.
Goaltender Alex D'Orio was invited to camp with Pittsburgh following a strong summer development camp with the Penguins in July. Pittsburgh will compete in the Prospects Challenge.
The players are expected to be away from the Sea Dogs for at least a week. Their returns may be delayed if they receive invitations to their respective NHL main camps.
Saint John's next preseason game is Thursday, September 14th, at 7 p.m. against the Moncton Wildcats at the Aitken University Centre in Fredericton. Tickets are available at the Aitken University Centre Box Office or online.
Sea Dogs Season Tickets are available for purchase at the Harbour Station Box Office. Click HERE for more information. Fans wishing to buy using a payment plan can do so at the Sea Dogs Administration Office on the pedway level of Harbour Station.