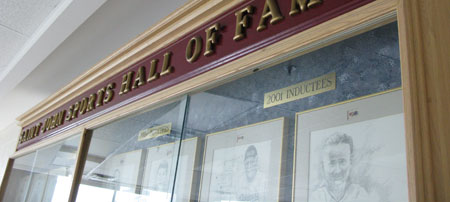 Six new portraits will be displayed on the walls of Harbour Station this fall, joining the ranks of over a hundred local sport legends.  The Saint John Sports Hall of Fame committee has selected its 2017 inductees.
David Arsenault                                                 
Category: Sport Builder
Lacrosse
Derek Doucette
Category: Official
Hockey

Ronald Hutton
Category: Sport Builder
Curling
Norman Wickens
Category: Athlete
Bodybuilding
Victor Fitzgerald (posthumously)
Category: Sport Builder
Baseball
Patrick Barry
Category: Athlete
Baseball
This year's evaluation process was no easy task admits Fred Horgan, committee chair:  "This was a banner year for the number of nominations we received.  It is encouraging to see such a response after thirty years. It validates that the Hall of Fame continues to hold great meaning to the sport community and citizens of Greater Saint John."
Mr. Horgan assures that not all is lost for nominees who did not make this year's roster.  Hall of Fame inductions are held every two years.  Nominations are held for two cycles.  This year's nominations will be carried over to be reconsidered in 2019.
This year marks the 30th anniversary of the Saint John Sports Hall of Fame. It has honoured local athletes, coaches, officials, teams and sport builders since 1987.  The Hall of Fame pays tribute to decades of achievements in Saint John's sports legacy.
The 24th induction ceremony and banquet will be held on Saturday, November 4th at the Lily Lake Pavilion.  Tickets go on sale later this summer.