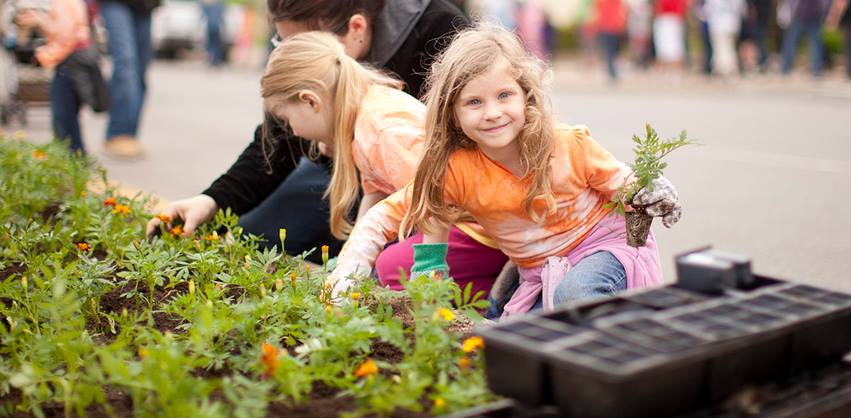 The Marigold Project is set to celebrate its 20th year on Thursday, June 15, 2017 with over 7,000 students from 55 local schools gathered to plant over 140,000 marigolds in 55 locations.
Since its inception in 1997, Saint John has been a proud supporter and major beneficiary of the community project that now sees close to 40,000 marigolds planted by over 900 students along the City's Main Street North. This spring is no exception – fresh soil beds have been meticulously prepared by City crews in the Growth and Community Development Services for the occasion.
Opening Ceremonies for this year's Saint John event will begin at 9:30 a.m. in front of McDonalds Restaurant, at the corner of Main Street and Lansdowne Avenue. The morning will include the planting of marigolds along Main Street, a presentation of the Marigold Awards celebrating community volunteerism, Centennial School Choir singing O Canada and the Marigold Song and greetings on behalf of the Province of New Brunswick and the City of Saint John.
Special recognition is extended to the members of the Marigolds Committee who continue to make it a priority to engage youth from Sussex to St. Stephen to beautify neighbourhoods, increase community pride, and place education around our environment at the forefront.
In addition to the work of the Committee, The Marigold Project is able to grow year over year thanks to the commitment from the following sponsors: Centennial School, Princess Elizabeth School, Millidgeville North School, the City of Saint John, the Saint John Police Force, McDonald's Restaurants, Bank of Nova Scotia, Saint John Hyundai, Irving Oil Ltd, Tim Hortons, Downey Ford, Bayview Credit Union, Plasticraft, Halifax Seed, Fundy Wellness Network, McGale & Associates, Kim Squared (website), Holiday Inn Express & Suites, 97.3 The Wave, CHSJ Country 94.1 FM, Atlantic Superstore, Wyndham Hotel Group.
For more information about the project, visit www.marigolds.ca
Motorists are advised of the following traffic interruptions:
Streets: Main Street North
Date: Thursday, June 15, 2017
Time: 9 a.m. – 12 p.m.
Duration: 3 hours
Action: Section of road closed to thru traffic. Transit customers use Metcalf on McDonalds side for service to city centre.
Specific Area: Lansdowne Avenue to Simonds Street
Direction: Both east and west bound
Description of Work: Planting/Landscaping
Project: The Marigold Project    
Motorists are advised to plan their travel accordingly, reduce speeds in construction zones, observe signage, and drive safely.  Work commencement and completion times are subject to change.  Weather permitting.