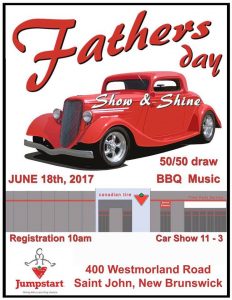 Canadian Tire East Saint John is hosting a Father's Day Show and Shine in support Of Jumpstart on Sunday June 18th, 2017 from 11 am to 3 pm.
There will be a 50/50 draw, BBQ, and entertainment. Registration starts at 10 am.
Proceeds will go to support Jumpstart.
June is Jumpstart month!
Jumpstart is more than just about getting kids active. It's about giving kids from families in financial need the same chance to participate as their neighbours, their classmates and their friends. Whether it's the chance to try a new sport or to continue with a favourite one, no kid should be left out.
The vision of Jumpstart is simple: Canada, where all kids have a chance to fulfill their dreams.
Jumpstart is a national charity with a commitment to local communities. Organized sports connect kids to their communities. Canadian Tire Corporation recognized this and makes sure that money raised stays where it is donated. Canadian Tire is Jumpstart's biggest supporter as it funds all the general administrative expenses of Jumpstart, which means 100% of customer donations go directly to help kids in need.
Canadian Tire has been a part of communities large and small for more than 90 years.
As the company grew, so did its focus on helping the communities that keep its aisles busy. In 1992, they created the Child Protection Foundation and, in 1999, it turned it into the Foundation for Families. The Canadian Tire Foundation for Families provided a helping hand to families in need, to ensure that life's basic needs were met: food, shelter, clothing and essential goods.
In 2005, Canadian Tire Jumpstart Charities was launched to address an issue of national concern; the inactivity of kids. National in scope, but local in its focus, Jumpstart helps kids in financial need participate in organized sports and physical activities by assisting with the costs associated with registration, equipment and/or transportation.