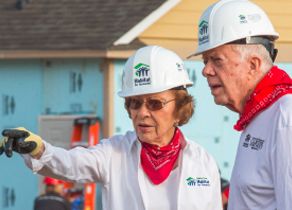 Former U.S. President Jimmy Carter and his wife Rosalynn will be in Canada from July 9-14th for Habitat for Humanity's 34th Jimmy and Rosalynn Carter Work Project to help build 150 homes for Canada's 150th anniversary – Habitat Canada's biggest build project ever!
Everyone in Canada has the right to a safe, affordable and decent place to live in and yet so many families do not have that. By supporting the Carter Work Project, Canadians can help build a more caring nation through volunteering – where neighbours help neighbours build homes that provide a safe and affordable foundation for a better life.
President Jimmy Carter and his wife Rosalynn will be focusing their efforts in Edmonton, Alberta and Winnipeg, Manitoba but the Carter Work Project will be a country-wide effort, with over 40 communities in every province and territory in Canada helping us reach our goal of building 150 homes.
This summer in the Saint John Region, Habitat will be taking part in the Carter Work Project by completing homes in St. George, Blacks Harbour and St. Stephen, and by welcoming a new homeowner family in Quispamsis!
This is a massive undertaking for our region, and we need your volunteer time and donations to make the Carter Work Project a success! For more information on how you can volunteer with your local Habitat, please call 506-635-5977 or visit www.habitatsaintjohn.ca