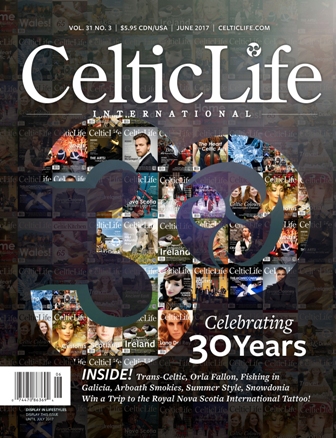 Celtic Life International magazine is celebrating 30 years of "connecting the Celtic dots."
The bi-monthly magazine – which first published in conjunction with Nova Scotia's International Gathering of the Clans in 1987 – showcases contemporary Celtic culture, with feature articles on the arts, cuisine, travel, history, heritage, and more.
"Interest in Celtic culture has always been what has driven us to do what we do," says publisher Angus (Marcie) Macquarrie. "It is an innate curiousity about what we share, and who we share it with. As with others before us, we are merely doing our part to preserve it and pass it down to future generations."
The magazine is celebrating three decades of publishing with its June 2017 cover story, a revamped website and a short documentary film.
"What began as a simple, regional newsletter has evolved into the largest community of its kind in the world," explains Macquarrie. "Between our print and digital editions, our website, our social media channels, and our newsletter, we now reach millions of people each month."
More information on the magazine's 30th anniversary is available via its website; www.celticlife.com