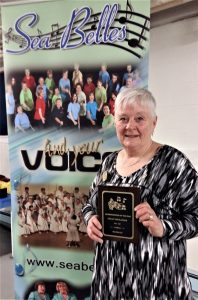 Sea Belles ladies' A Cappella chorus,  a 47 year chapter of Harmony, Incorporated  recently held a weekend music retreat in preparation for the Area 1 Convention and Contest in June. One of the highlights of the weekend was the presentation of the Barbershopper of the Year Award. Each year the chorus members secretly vote on who they feel has given the most of their time and energy to promote and  support the chorus.
This year the award was given to Sea Belles' outgoing President Susan Ingraham for her many hours  working on behalf of the chorus, and supporting its members. The award was presented on behalf of the chorus by Bernice Blake-Dibblee, last year's award recipient.
"Receiving the Barbershopper of the Year award was truly humbling, " stated Ms. Ingraham. "Being recognized by your peers as someone they feel reflects their feelings about one another and their community is the highest praise anyone could receive. I can only hope to make these ladies proud by representing them with the pride and love I feel for each and every one of them and our organization."
During the weekend retreat, new Chorus officers were also installed by weekend coach, Kathy Greason. New officers include: President Susan Ingraham, Vice President Margie Mazerolle, Secretary Cheryl Sweeney, Treasurer Mandie Nicholson, Past President Tracey Harkins, and At Large Board members Cindy Mayo, Hazel Alexander, Ann Connolly, Brenda Smith, Vangie Mofford, Jane Trites.
Sea Belles will attend the Area 1 Contest and Convention June 1-5, 2017 at Mount Allison University in Sackville. The public is invited to hear choruses and quartets compete from across the Atlantic region.