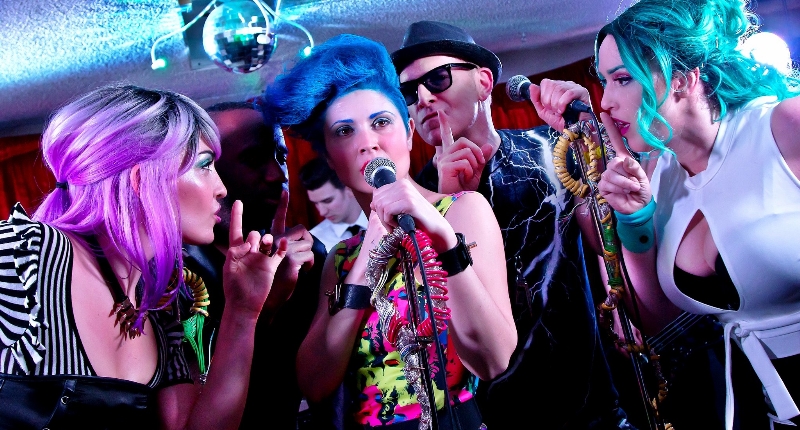 Recently on the cover of Ottawa Life Magazine named Ottawa's Best Band, The PepTides are a nine-member group with a distinctive larger-than-life pop sound and an energetic and colourful live show. Promoting the release of their self-titled EP, the group tours the Maritimes for the first time, June 9-15.
Upcoming shows include:
June 9               Saint John                             Peppers Pub
June 10             Halifax                                    Rainbow Room / Menz & Mollyz
June 11             Charlottetown                        Baba's Lounge
June 14             Moncton                                 Plan B
June 15             Fredericton                            Capital Complex
For show and ticket information, visit: ThePepTides.com/live/
Noted for their extravagant live performances, The PepTides consist of five vocalists and four instrumentalists and draw on funk, electronic and disco influences. Featuring thick vocal harmonies and theatrical choreography, The PepTides' songs juxtapose upbeat music with lyrics that comment on far-reaching themes like love, hate, revenge, sex, religion, war—and getting ready for dates.
Offering a snapshot of Canadian diversity, the band is an eclectic community of musicians with a rainbow of identities: girls and guys, gay and straight, English and French, black and white and in between, Ukrainian, Mexican, Guyanese, Cree, Acadian, Armenian and Scottish.
The PepTides self-titled EP, released in September 2016, features all-new studio recordings of the band's live favourites, including the summer single "Don't Believe in Love", which aired on commercial radio from coast to coast in Canada and charted in the Earshot Top 50.
In 2013, The PepTides garnered national attention by producing a full-length album in collaboration with Stuart McLean of CBC Radio's Vinyl Cafe. They performed selections from the album live on the 20th anniversary recording of the show. Their 2014 release Love Question Mark was lauded by Exclaim! as "an ambitious collection of fun, daring, unadulterated, true blue art," and their album, For Those Who Hate Human Interaction (2010) was named Album of the Year by the Ottawa Citizen.
The band has charmed audiences at major music festivals (RBC Bluesfest, Ottawa International Jazz Festival), bars (Black Sheep Inn, Horseshoe Tavern), showcases (NXNE, Folk Music Ontario), and theatre festivals (SummerWorks, Undercurrents).
M3TV's take on The PepTides says it all: "Mixing their stunning vocals with funk beats underneath a soulful sound, an abundance of theatrical dance moves and kitschy quirks, they defy any genre or description. One must simply see them to believe them."
For more information on The PepTides, visit: ThePepTides.com, like on Facebook:ThePepTides, follow on Twitter: ThePepTides and Instagram: ThePepTides.