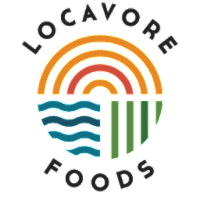 Locavore recently sent out an email newsletter to former Real Food Connections subscribers. Check it out below!
Prepared Meals Now Online! It's about time … EatLocavore.ca is now Live!
It has been a crazy 100+/- days since the closure of Real Food Connections and their marketplace for local food. In that time Locavore Foods has been very busy defining itself and trying to create a new entity from what was left. New founders, Jason Lejeune and Sean Dunbar, have been working with our team every day and helping us craft a disciplined yet impactful plan that will build a future we should all hope to see in the region.
The mission remains the same. "To make foods grown in the region more accessible for the people that eat in the region". The change is that we are not focused on operating a retail location, a distribution network or a produce box program. We are focused on our strengths in the kitchen. We are excited to work with operating retailers, restaurants and institutions that are great at operating that end of the business. We hope to bring them great and unique products made directly with the whole foods grown on local farms.
We began in late December and Early January with re-opening the Picaroon's Roundhouse Cafe that was a project nearing completion by the Real Foods team as well as a newly revisioned local food cafe in the old Real Foods store in Uptown Saint John. Those locations are currently in full operation and are offering seasonal, fast-casual menus that are over 80% locally sourced every day.
This second phase of our plan is to start offering our new prepared meals, soups and other unique creations direct to the customer through our newly launched website. This new program is all focused on a simpler system, high quality products and ease of use. We will be adding new services as we can, but it's a great start!
All products can be picked up for free or delivered to your door for a small fee.
All orders are fully self contained and ready for pick-up/ delivery.
Menus are released each week and you can select the exact meals you want to get each week for your particular diet.
You can set any of our programs to be re-occurring and change your order at any time.
Check out all of the details HERE!
Menu for Delivery Dates March 30-31
(we will select your order from these items each week unless you add a note at checkout to specifically choose the meals you want to make up your order)
New Menu Items this Week
Vegetarian Meals
Beet and Black Bean "meatballs" and Marinara on GF Penne – NO ADDED GLUTEN, VEGAN
Zesty Burrito Bake with refried beans, brown rice, house salsa, local tortillas and shredded cheese – VEGETARIAN
Veggie Satay- Chickpeas, veggies and brown rice served with a rich and spicy (mild) nut butter satay sauce. NO ADDED GLUTEN, VEGAN
Omnivore Meals
Grass Fed Meatballs and Marinara on GF Penne – NO ADDED GLUTEN
Marinated Pork Satay – Sweet and Spicy pork, veggies and brown rice served with a rich nut butter satay sauce. – NO ADDED
GLUTEN, DAIRY FREE
Banger's and Mash – a rich dairy-free mash served with Local sausages and house GF Gravy. NO ADDED GLUTEN, DAIRY FREE
Standard Recipes we should have in stock (supply not guaranteed however).
Beef Cottage Pie – Grass Fed 21 day aged ground beef sauteed with onions, carrots and garlic and topped with a dairy free mashed potatoes. NO ADDED GLUTEN, DAIRY FREE
Lentil Cottage Pie – Garlic sauteed lentils, and a blend of seasonal winter veggies topped with a dairy free mashed potatoes. – NO
ADDED GLUTEN, VEGAN/DAIRY FREE
Chicken Curry – House South-Western Indian curry sauce with carrots, sweet potatoes, pastured roast chicken and served with brown rice. NO ADDED GLUTEN, DAIRY FREE
Chickpea Curry – House South-Western Indian curry sauce with carrots, sweet potatoes, tender chick peas and served with brown rice. NO ADDED GLUTEN, VEGAN/DAIRY FREE