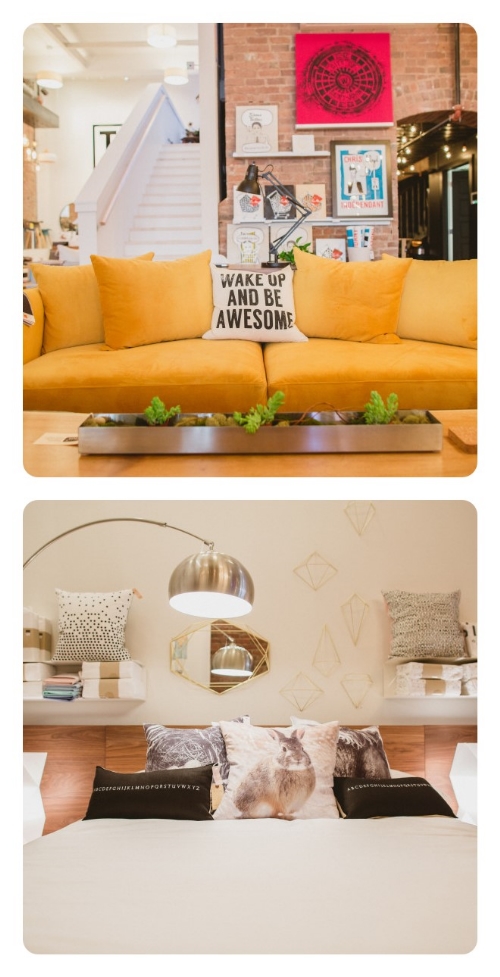 by Heather Desserud, The Chamber Saint John Region
When Judith Mackin began Tuck Studio out of her home, she was looking to fill a need in the region. She had a thriving interior design business, but found there was no store in Saint John offering the kind of items she and her clients loved. Originally on level zero of the home she shares with her husband, poet and professor Robert Moore, Tuck Studio has grown into a successful shopping magnet on the up-and-coming Prince William Street.
Over the years, Mackin's love for the urban core has shone through her business partnerships that include Here Magazine, Third Space Gallery, Happinez Wine Bar and the soon to open HopScotch Whisky Bar.
"Returning to the uptown region was so important for me," she says. "I missed being part of the vibe, the culture that radiates through the core."
Tuck has already become an indelible part of that vibe, offering a unique blend of modern pieces within a truly historic Saint John building. Her neighbours are an important part of the atmosphere: "There's a cluster effect happening right now on Prince William, with a number of shops around us drawing shoppers to venture down the street and browse. It's becoming a destination." This effect is especially apparent on Saturdays, when the store is bustling with a combination of walk-in traffic and shoppers who have travelled specifically for Tuck Studio.
Whether from quality international designers—Tuck is the exclusive New Brunswick location for Canadian brands such as Gus* Modern and EQ3—or talented local artists, every piece at Tuck is carefully curated by Mackin to suit the studio's goal of being the most beautiful store in Canada. As you walk around the stunning space in the Palatine building, it's clear that this is not just hyperbole. The large gargoyle photograph mirroring the detailed stonework on the front of the building down to each hand-crafted piece of ceramic all emphasize an attention to beauty, modernity and detail.
When asked about Tuck's aesthetic, Mackin is emphatic: "We believe above all things in honouring and welcoming our clients. Many boutique stores have a perceived snobbery about them that alienates shoppers. We want every person who comes through this door to feel welcome, whether it's a grade ten student or a cardiologist. Everyone deserves to feel appreciated as they browse. When people feel comfortable, the sales will take care of themselves."

This aesthetic is evident in the way Mackin talks about her team. "I truly believe that we are only as strong as the people we surround ourselves with," she says. She hires for personality—"taste and design can be taught, but it's personality that makes our team special"—and encourages the same welcoming and passionate energy in every team member. The passion is obvious in person and in the store's robust social media presence. It's also contagious—Tuck's customers tend to join in on promoting the store, eagerly posting their latest purchases on Instagram, Facebook and Twitter.
Surrounding herself with good people is one of the reasons Tuck Studio is part of the Chamber. "It's so important to find other, like-minded people who can build you up," she says, "and joining groups like the Chamber shows that you are invested in the success of other businesses as well."
What excites Mackin most about is how many entrepreneurs are taking the success of the region into their own hands. Successful business owners aren't waiting for the next big project to save the city; they're simply doing it themselves.
In response to those who wonder whether the city can ever compete with larger markets, Mackin doesn't hesitate. "We don't have to be "Little Boston" or "Little Portland." We don't need to pretend we're in New York or Montreal. We can be authentically and uniquely Saint John."