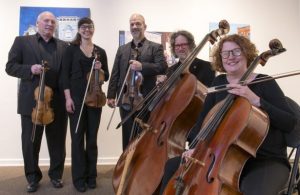 Symphony New Brunswick presents the renowned Saint John String Quartet and Principal Bass player Andrew Miller, giving audiences an unusual quintet performance in "Four Plus One." They will be performing this unique concert in Saint John, and Sussex on Feb. 18 and Feb. 25.
One of the pieces they will be playing is Dvorak's Quintet, op 77, written in 1875. Andrew Miller recalls that they haven't played this together for over 20 years: "The last time we played this, back in the nascent days of the world-wide-web, it was one of the first-ever concerts to be live-streamed on the Internet. Fellows from the phone company had to run cable down the street into the venue as conventional phone lines couldn't handle much bandwidth."
Symphony New Brunswick Concertmaster and Quartet principal violinist David Adams adds: "With the addition of a bass to a string quartet the sound changes, giving a full-body tonal palette. The string quartet's roles change so that the inner voices and cello are not only adding to the larger harmonic structure but also taking on more melodic material."
Also on the program is "Dynamus for String Quintet" written by Canadian Juno-winning composer Allan Gordon Bell in 1980 and the Haydn String Quartet, op 20 no. 4 — a comical and witty string quartet with a melancholy second movement in a beautiful theme and variation form.
CONCERT DETAILS ARE AS FOLLOWS:
February 19, 2017 in Saint John at the Saint John Arts Centre at 2:00 pm
February 25, 2017 in Sussex at Saint Francis Xavier Roman Catholic Church at 7:30 pm
Students: $10 Adults: $26
For more information, visit symphonynb.com