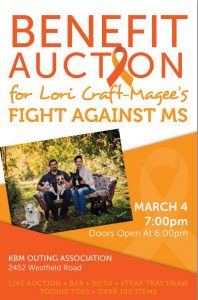 There will be a Benefit Auction for Lori Craft Magee on Saturday March 4th, 2017  beginning at 7 pm at the KBM Outing Association, 2452 Westfield Road. Doors open at 6 pm.
This Benefit Auction will help support Lori in her journey to California to one of top rated stem cell treatment facilities in the US.
Lori was diagnosed with MS in 2016 and it has already had an impact on her day to day life. With the great news of her being eligible for this treatment came the reality of the large costs involved.
So please come out for a good time and help support Lori.
There will be a live auction with a DJ for a bit of music before and after. And the bar will be open. 50/50 tickets will be sold, and there will be tickets on a steak tray and a toonie toss for liquor.
If you go to one Auction this year, this will be the one to attend! Some of the items up for grabs include Boston Red Sox tickets, whale watching adventures, hotel stays, sweatshirts, ball caps, handbags, pet supplies, restaurant vouchers, beauty supplies, entertainment gift certificates, gift baskets, and many more items as the donations continue to come in and the auction list grows by the day!
To view photos of some of the items up for auction join the Facebook group.
You can also find more local events on Saint John Online's events calendar where it's always free to list your special community event.