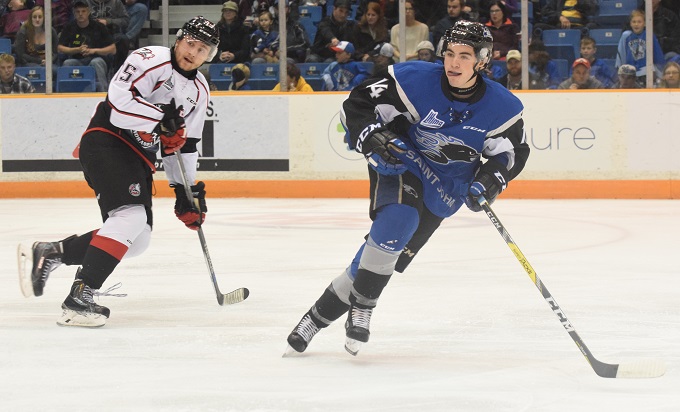 Nathan Noel scored the only goal for the Saint John Sea Dogs in a 5-1 loss to the Rouyn-Noranda Huskies Saturday at Harbour Station.
Evan MacKinnon, Peter Abbandonato, Jean-Christophe Beaudin, Gabriel Fontaine and Jeremy Diotte tallied for Rouyn-Noranda (9-1-0-1) in the third straight win for the 2016 President Cup champions.
The Sea Dogs (8-4-1-0) and Huskies split the season series with one win each.
A scoring summary is available HERE.
Rouyn-Noranda had the only goal of the opening period when MacKinnon chipped a shot past goalie Alex Bishop's glove for his first career QMJHL goal.
The Huskies seized control in the second.
From his knees, Abbandonato slid the rebound of a shot from the left wing through Bishop's legs four minutes into the frame.
Beaudin made it a 3-0 contest three minutes later, ripping a shot from the left circle over Bishop's blocker.
The Sea Dogs replaced Bishop with Alex D'Orio following the third Rouyn-Noranda goal.
Fontaine extended his club's lead to four with about five minutes left in the period.
The 2016 sixth-round pick of the New York Rangers finished off a three-way passing play with a backhand shot from in front of the goal that snuck past D'Orio's glove.
Noel's goal came two minutes later.
Defenceman Luke Green blasted a slap shot from the middle of the point that was stopped by Huskies netminder Samuel Harvey. Noel, parked in front of the goal, chopped the rebound home to cut Saint John's deficit to three.
But Diotte wrapped up the scoring late in the third period with a long shot from the right point that deflected past D'Orio's blocker for his first QMJHL goal.
Harvey earned the win with 29 saves. Bishop and D'Orio combined to make 25 saves in taking the loss.
Abbandonato and MacKinnon were named first and second star, respectively, with a goal and assist each. Noel snagged third star with the Sea Dogs' only goal and seven shots on goal in front of 4,391 fans in attendance.
The Sea Dogs' next game is Wednesday, October 26th, at 7 p.m. against the Charlottetown Islanders at Harbour Station. Tickets are available at the Harbour Station Box Office and online. Listen LIVE on 96.1 New Song FM or newsongfm.ca. Watch LIVE on Neulion.
Be sure to check our website for details on our Halloween six-pack – six Upper Bowl flex vouchers starting at $96.