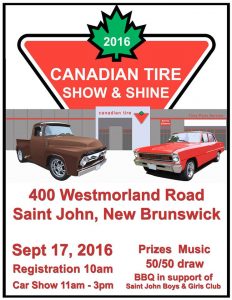 Canadian Tire East at 400 Westmorland Road is having a Show & Shine today, Saturday September 17th, 2016 from 11 am to 3 pm. Registration will begin at 10 am. There will be prizes, live music, and a BBQ. Funds raised from this event will support the Saint John Boys and Girls Club and the Jump Start program.
About the Saint John Boys and Girls Club
The Boys and Girls Club of Saint John, Inc is the first Boys and Girls Club in Canada dating back to 1900.
A dream which began in the minds of Saint John Rotarian's in 1954, became a reality in April 1955 when the doors of the new Boys and Girls Club of Saint John were opened.
The Rotary Club first became involved in youth work when the old youth center was opened in the year 1922 and they have become very active in youth work ever since.
Such men as B.R. Guss, QC, D.M. Wathen, Eli Boyaner, Joe Lieberman, and E.A. Bradley were some of the enthusiastic workers of the Rotary Building Commitee who helped to get the Boys and Girls Club built.
The members of the Rotary Anns (wives of the Rotarians) played a very active part in the programming when the Club was first opened. They assisted in supplying needs for the kindergarten program for many years.
A Mortgage Burning ceremony was held in the 1958, just four years after the building was erected.
Tragedy struck on October 24, 1974, when vandals caused a fire which destroyed a major portion of the Club. But, again, the Saint John Rotary Club rose to the challenge and the present facility was rebuilt in 1975-76.
The building was officially reopened June 6, 1976 and has been affecting thousands of youngsters through the Club's motto of "A good place to be".
The Board of Directors oversee the Club's direction which is progressively striving to meet the needs of the youth of Saint John.
About Canadian Tire Jumpstart Charities
Canadian Tire Jumpstart Charities is a national charity dedicated to providing kids from low-income families with the opportunity to experience the benefits of organized sports and physical activities. With an extensive, national network of more than 330 local chapters, Jumpstart helps kids in communities across Canada by assisting with the costs associated with registration, equipment and/or transportation.
Supported by the Canadian Tire Family of Companies, which includes Canadian Tire, PartSource, Gas+, Sport Chek, Atmosphere, National Sports, Sports Experts, Mark's and Canadian Tire Financial Services, Jumpstart has enabled more than 750,000 Canadian kids and counting to get in the game since 2005.