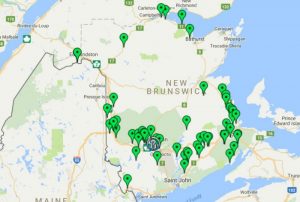 Sunday, September 18th, 2016 is Open Farm Day. Come rain or shine, many farms in all corners of the province will open up their gates to give you a free backstage pass to life on the farm. Visit one of the 55+ farms that are participating to see the hard work and dedication farmers contribute to provide top quality products and services.
Find a full list of participating farms here.
"This day provides a great opportunity for New Brunswickers to learn about where their food and beverages come from and to celebrate the vast contributions of farmers to our way of life," said Agriculture, Aquaculture and Fisheries Minister Rick Doucet. "I encourage everyone to show their support by exploring the Open Farm Day events in their communities."
Activities vary at each location and include farm and greenhouse tours, food and drink tastings, U-picks and petting zoos. Visitors can check out the hives at an apiary in Charlo, enjoy a corn boil in Bates Landing, catch their own trout in Cocagne and tour a farm museum in Keswick. Most activities are free.
Open Farm Day is an initiative of the Agricultural Alliance of New Brunswick and is supported by the provincial government.
The alliance is an important partner in the development of the Department of Agriculture, Aquaculture and Fisheries' Local Food and Beverage Strategy. The alliance also provided help and advice in the creation of the department's Road Map for New Entrants, a resource designed to help new farmers navigate the licences, permits and regulations relating to agricultural operations in the province.
"All of these projects have a common goal, creating new opportunities for success in the agricultural industry," said Doucet.