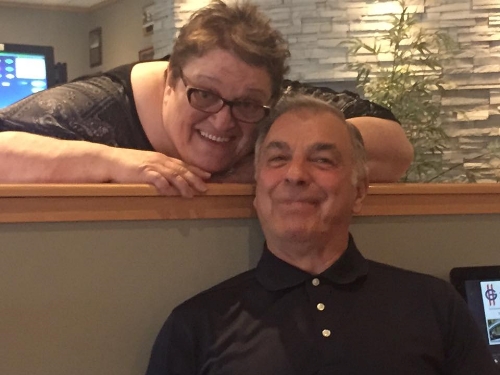 After over 41 years of service, one of the region's most beloved waitresses, Marie-Mae McLaughlin, will retire this month. There will be a retirement celebration on Wednesday September 7th beginning at 8 pm at Vito's restaurant, 324 Rothesay Avenue.
A post on the restaurant's Facebook page earlier this week said:
"The Georgoudis family and the staff of Vito's would like to thank and honour Marie-Mae McLaughlin for over 41 years of outstanding service.

This week will be her last week with us as she prepares for retirement. Her last day will be September 4th. She will be greatly missed but the door will be always open for her. She started in 1975. Three of the four current second generation owners were not even in elementary yet.

She is the epitome of customer service. Her compassion on providing outstanding customer service has been second to none. She has equally shown the same to her fellow teammates and Vito's.

Many remember her from her early days at Vito's on Russell street. Many long time customers came with their children and those children come now with their own. She unbelievably remembers their names and exactly what they order even those that come back after 20 years from working abroad.

We wish her all the best and look forward to having her stop to visit. We will be having a retirement celebration on September 7, Wednesday, at 324 Rothesay Avenue at 8 pm. Doors are open to all to wish her the best.

If you have any stories or memories of Marie-Mae please, please share them in the comments below as we know she would truly appreciate it. Thank you!"
And people have been doing just that! So far the post has been shared over 400 times, has been liked nearly 2000 times and has received over 450 comments,
"Marie-Mae has been waiting and serving our family for 40 years. I can remember as a little girl how special she made us feel with Shirley temples to just talking to us. As a teenager I would find out which restaurant she was working at because I loved her hugs,smiles and awesomeness!!! As a parent now with teenage kids I always came home for a visit and looked for her at the restaurant. The last memory was for my father Ronald James Beshara, 70 birthday!! She was there waiting on our family which was taking up most of the restaurant and smiling and joking with every one. She will be greatly missed. As awesome as the pizza was I truly came to see Marie-Mae.
Thanks for a life time of memories!!!
Love DeeDee Morton❤️"
"Congratulations Marie our daughter Jill was diagnosed with leukaemia in 1984 & you came to see us and encourage us as your daughter had been sick too and you helped us face the illness. Our daughter is fine today. David and I always went to Russell St we were home in July and went to Vito's.
Warm regards
Judy & David Allen now live in Alberta"
Sherry Lecointe wrote, "THE BEST when it comes to customer service. That's what it is like I guess when you like your job and what you are doing. She always had a smile and kind words for all the customers. We always tried to sit wherever she was serving. Actually met her at the KV Vito's a few weeks ago and she remembered us even though it had been at least 10 years since we had been to the uptown vitos . All the best in her retirement. She deserves it."
Ally Langille wrote, "I am one of those babies that now brings her babies! I am 35 and went to Vito's with my parents every Sunday for Pizza and a Shirley Temple! We still get there a couple times a month but now my littles are getting the Shirley temples! Marie-Mae has been such a staple! When I was little I actually though she was famil y… You've certainly earned your retirement! You will be missed by a lot of people!!!!"
Danielle Mercer wrote, "We celebrated my grandfather's 94th birthday at Vito's in KV and she was working. She was absolutely delightful and took time to make sure that my grandparents were comfortable and had everything they needed. She embodies customer service and caring. She's a rare jem. I think that Vito's should hire her to come in part time to train the new employees. If only she could be cloned!!! Happy retirement Marie-Mae! You will be greatly missed!!!"
Cathy Mott wrote, "I love living in a town where when you hear someone say 'Marie-Mae is retiring' most people know who you are talking about! Marie-Mae was a great neighbour all those years ago on Barbara Crescent and a highlight of our visits to Vito's. Best of luck to a fabulous person! You will be missed!"
Congratulations Marie-Mae from everyone here at Saint John Online!