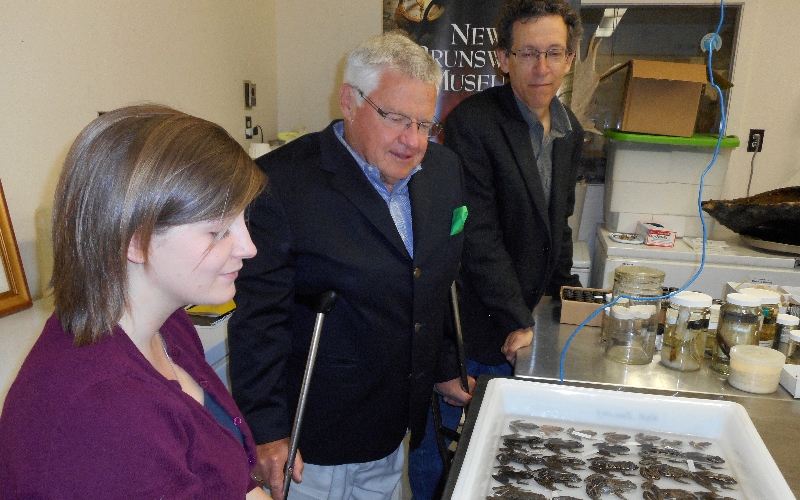 The local economy in Saint John and Sussex will benefit from an investment of about $530,000 in 22 projects under the provincial government's Environmental Trust Fund.
"We are focused on creating jobs in New Brunswick and to do so, we have a diversified approach, which includes the responsible development of our natural resources and the protection of our environment," said Service New Brunswick Minister Ed Doherty. "The Environmental Trust Fund encourages excellent environmental initiatives that help build a better New Brunswick and benefit our province's air, land and water resources. These environmental projects will also contribute to the local and provincial economy and maintain jobs in the Saint John and Sussex regions."
Doherty spoke on behalf of Environment and Local Government Minister Serge Rousselle.
The announcement was hosted by the New Brunswick Museum, who received $97,500 to increase environmental awareness and protect the environment through researching and documenting the biodiversity of the province, augmenting their exhibits and developing an interactive website and documentary.
"We are pleased to have government's support as we work to highlight the importance of protecting the environment as part of our educational mandate," said Jane Fullerton, CEO of the museum. "The museum is a place to discover our past, but also a place to learn about our future and protecting the environment is an increasingly important consideration for New Brunswick's future."
The following organizations also received funding:
the Kennebecasis Watershed Restoration Committee will receive $65,000 for three projects: $20,000 to improve Smith's Creek headwaters; $35,000 to gauge climate uncertainty; and $10,000 to develop educational materials for pre-school and elementary school children with a project called Habitat in a box;
Regional Service Commission 8 will receive $25,000 to increase awareness of community recycling;
the Co-operative Enterprise Council of New Brunswick will receive $25,000 to increase awareness of environmental issues in the Off Grid East Coast magazine;
the Green Eye Co-operative will receive $47,340 to support the Petitcodiac Farmer's Market, linking buying local food to reducing our carbon footprint;
the Belleisle Bay Watershed Coalition will receive $20,000 to assess rain events;
Fundy Trail Parkway will receive $6,500 to enhance their flora and fauna signage;
Fundy Model Forest will receive $10,650 to undertake a watershed study on the Hayward Brook;
the Hammond River Angling Association will receive $18,000 to increase environmental awareness through their Experience Nature project;
the Town of Hampton will receive $33,000 to undertake climate change risk mapping;
the City of Saint John will receive $10,000 to undertake an environmental risk assessment;
the Cresent Valley Resource Centre will receive $12,600 to help manage waste;
the Courtney Bay Tenant Association will receive $15,000 to administer a community housing recycling program;
Stonehammer Goepark will receive $29,980 for two projects; $10,660 for summer educational programming; and $19,320 to produce 3D models and create a virtual visit product;
Sustainable Saint John will receive $20,000 for a project aimed at building sustainable communities; and
Atlantic Coastal Action Program Saint John will receive $95,000 for two projects; $35,000 to help co-ordinate the 10,000 hands project for environmental volunteering; and $60,000 to continue the study on the post harbour clean up and recovery.
The Environmental Trust Fund provides assistance to community groups, organizations, municipalities and institutions for projects that produce tangible, measurable benefits to the environment.
A total of 207 projects valued at $6.5 million have been approved under the fund.
In addition, another $1.5 million has been set aside to support projects later in the year.
More information, including the list of approved projects and initiatives, is available online.