With better trapnet numbers (see below) and more catching, angling is looking up somewhat.  Hopefully, it is a sign of things (fish) to come.  A little more rain and cooler temperatures would certainly help the angling.
Doug White's Tammerack Sports Fly Shop in Juniper said it was not a bad week on the river with several salmon and grilse hooked on the Main and the north branch. Water remains cool, relatively clear and at a good pitch.
Flies of choice: Bombers, Bugs, Butterflies and one was taken on a Jigaboo.
W. W. Doak and Sons in Doaktown said angling had picked up a bit since last week.  There had been an 18 inch raise in water in the Blackville area and about a foot in Doaktown.  Last weekend the water temp was 58 Fahrenheit and was 64 degrees to start Tuesday.  Anglers were picking up a mix of salmon and grilse, but the fish were not holding.  There hade been some salmon in the 27-39 pound range.  One angler picked up a grilse two nights in a row.
Flies of choice were Same-Thing-Murrays, Glitter Bears, Undertakers and Shady Ladies.  In short, most were using the darker patterns on no. 6 hooks.
Derek Munn of Ledges Inn in Doaktown and Mountain Channel in the Rapids area said there were a few fish around and anglers were picking up some.  Generally, fishing was decent, but not great.  It had been very good last weekend, but the warmer weather gradually began to take its toll on the catching.   Water conditions were still good late Tuesday.
Flies of choice were Smurfs, White-tailed Green Machines, Undertakers, Shady Ladies and Same-Thing-Murrays, as well as some Bombers in blue & white and brown & white.
Herb Barry Sr. of Herb's Fly Shop on the Station Road in Blackville said angling was quiet with some saying there was good fishing while others were saying the opposite.  One guide said there was so many fish in his pool that he had to tie the top of his water to stop them from jumping in.  In short, the fish seemed to be going through in spurts.  Those that were being caught were a mix of salmon and grilse.
Flies of choice were darker patterns such as Bear Hairs, Preachers, Undertakers, and Glitter Bears along with the White-tailed Green Machines.
Curtis Miramichi River Outfitting in Blackville said there had been good numbers of fish caught on the weekend.  Catches were a good mix of salmon and grilse with some big salmon in the 20-pound range.  One on the Northwest was reported in the 30-35 pound range.  The water had been a good height and was cool on the weekend, but was starting to warm up by mid-week.
Flies of choice were Green Highlanders, Green Smurfs, Shady Ladies, Buck Bugs, Same-Thing-Murrays, Undertakers, Bombers and Carter's Bugs.
Jim Laws of Miramichi Hunting and Fishing in Newcastle, Miramichi reported some fish being caught, but no great run to date.  The water was beginning to warm up with the sun and higher temperatures.
Laws wants to inform anglers that there will be a public meeting to discuss the salmon and striped bass situation and effect on the fishery.  The meeting will be held Sunday afternoon July 24 at 2 p.m. at the Lion's Center in Newcastle, Miramichi.  Laws said that he has already confirmed anglers from Bathurst, Doaktown and Boiestown as well as fishermen from the Bay area, and invites anyone interested.  He hopes to have some politicians on hand as well as DFO representation.
Flies of choice were White-tailed Green Machines, Shady Ladies, Black Ghosts and some dry flies and Bombers.
Syd Matchett of Trout Brook Fly Shop on the Northwest Miramichi said angling had been very good last weekend, but tapered of as the week went on.  One group of anglers caught a dozen fish in three days, while another hooked eight in two days.  Jeff Morris hooked two on Saturday.
Successive parties at the Sullivan Crown Reserve stretch caught seven and nine fish.  Yet the next guy into the shop says there is no fish around, so it is hard to really know exactly what the situation is.  One contributing factor is that the fish are moving right through, rather than holding.  What proved to be a good pool yesterday may well produce nothing the today.
Flies of choice were Shady Ladies, Black Ghosts, Cossebooms and Yellow-winged Butterflies on nos. 6 and 4 hooks.
Debbie Norton of Upper Oxbow Outdoor Adventures on the Little Southwest Miramichi said they had caught 12 fish this past week, had seen some and lost some, so angling was fairly good, or at least steady, but you might have to work for them.  Walt Geryk, known as "The Spey Doctor" had one fish a day Wednesday through Sunday.  Pete MacQuire of Halifax, NS caught a nice 33-inch salmon on Tuesday.  Water conditions were good, but might take a little hit from the heat.
Flies of choice were Walt Geryks and Undertaker' Wife (a combination of a Will Taylor Special, an Undertaker and a Green Highlander).
So if the hot weather does not take too much f a toll on the water and the fish, and we get a bit of rain, it is time to get out and "on the water".
Don't forget to show your support for our sponsors, because without them, this column would not be possible.  
ANY FINANCIAL CONTRIBUTIONS TOWARD HELPING WITH THIS COLUMN ARE GREATLY APPRECIATED. Click here to donate now. Or to donate by mail, send to:
Doug Underhill
438 McKinnon Road
Miramichi, NB, Canada, E1V 6G2
A SPECIAL THANKS to all who made contributions last season.
If you would like to sponsor this column, give us a call at (506) 352-7668 or email support@mightycommunity.com.
Thought for the Week: "If I fished only to capture fish, my fishing trips would have ended long ago."  Zane Grey
——————————————
E-MAIL:
Hey Doug,
I see too many people holding fish high and dry, out of the water, makes for a nice photo but the time for photo is while holding the fish in the water during the release.  Remember there is potential for that fish to be caught again, it needs every bit of energy we can leave it with.
Brian Fox, Woodstock
——————————————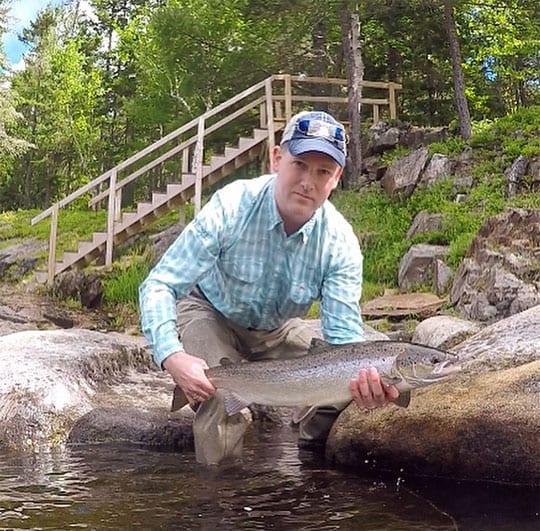 Hi Doug, little July magic on the river this week, not a big fish by any means, but one among some respectable numbers for the hours and effort.
Daniel Porter
——————————————
From the Miramichi Salmon Association
Hi All,
The eleventh annual MSA Salmon Classic wrapped up today with 25 anglers very happy with their three days of fishing. I haven't heard final counts from everyone but I know of 16 fish being caught (14 grilse and 2 salmon). Pictures of some of the anglers with their catches can be seen on our Facebook page. We had great weather, great water and great guides – I want to thank all of the anglers for coming and all of the guides for volunteering their time – a wonderful time was had by all.
Millerton and Cassilis Traps
It has been a good week at both Millerton and Cassilis.  In Millerton numbers picked up from 20-30 on the weekend, to approximately 50 on Monday, 90 yesterday and 60 today. Cassilis has had a steady 10 – 20 each day.
These traps catch approximately 7-10% of the run going up the river so 90 salmon in the trap could represent 900-1285 fish in the run.
With these early results and numerous reports of anglers catching fish we are cautiously optimistic about the run this season.
DFO does post trap and barrier numbers the middle and end of each month – these can be found at http://www.inter.dfo-mpo.gc.ca/Gulf/asir/count?period=0615&group=1 or click the DFO Salmon Counts Quick Link on our home page. The June 30th numbers are posted.
Barrier Reports
Numbers of fish making it to both barriers is down compared to the same time last year. But with the good run of fish this week, next week's results will hopefully be much better.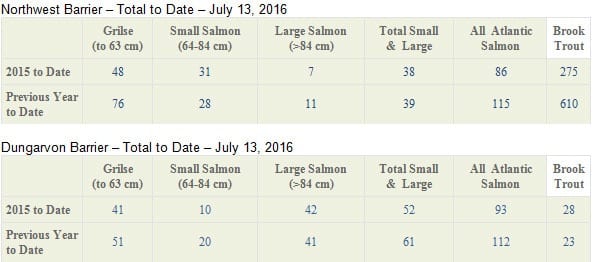 MSA Photo Contest 2016
MSA wants you to share your best photos of the Miramichi Watershed in our new MSA Photo Contest 2016!  This contest is part of an MSA project to collect images from the Miramichi watershed that can be used to create an MSA archive documenting life on the Miramichi and also for use on MSA social media sites and in MSA promotional materials and publications such as our calendar and annual report. There are five categories and 3 divisions and you can enter two photos into each category. For more information or to enter go to our web site at www.miramichisalmon.ca. Enjoy this great weather!
Yours in Conservation,
Nola
——————————————
 
Atlantic Salmon Federation News for Friday, July 8, 2016
ASF RIVERNOTES Share the Latest Salmon Returns
~~~~~~~~~~~~~~~~~~~~~~~~~~~~~~~~~~~~~~~~~~~~~~~~
There are intriguing reports on returns from every region this week, but what do they mean? Early July may be too soon for any conclusions, but the counting fence data from the end of June and later may hold hints.
http://asf.ca/asf-rivernotes-july-7-2016.html
ASF Regional Director Focuses on PEI Salmon
~~~~~~~~~~~~~~~~~~~~~~~~~~~~~~~~~~~~~~~~~~~~~~~~
Lewis Hinks, ASF Regional Director for Nova Scotia and Prince Edward Island programs provides insight into the issues affecting the island's Atlantic salmon.
http://asf.ca/news-from-the-regions.html
Hard-hitting article on the Perils of Aquaculture for Wild Atlantic Salmon
~~~~~~~~~~~~~~~~~~~~~~~~~~~~~~~~~~~~~~~~~~~~~~~~
In Ted Williams examination of the very real issues of sea lice and other problems, he interviews  several individuals associated with ASF, including president Bill Taylor, research and environment executive director Jonathan Carr, and Nat Reed and Chris Buckley, ASF(US) Directors. It is a compelling read.
http://asf.ca/death-of-atlantic-salmon-courtesy-of-norway.html
Farming Salmon in a Cargo Ship
~~~~~~~~~~~~~~~~~~~~~~~~~~~~~~~~~~~~~~~~~~~~~~~~
Marine Harvest is exploring the potential for using cargo ships as closed-containment operations that could reduce or eliminate the effects of sea lice.
http://asf.ca/farm-fish-inside-cargo-ship.html
Wide-reaching US Federal Court of Appeals Decision Impacts Pacific Salmon
~~~~~~~~~~~~~~~~~~~~~~~~~~~~~~~~~~~~~~~~~~~~~~~~
In the Pacific Northwest of the US, a Federal court has ruled that all those culverts that do not allow fish passage are interfering with treaty rights, and need to be fixed. Could this same argument be applied elsewhere?
http://asf.ca/the-salmon-s-swim-for-survival.html
Want to receive the Miramichi Fishing Report by email?  Click here to subscribe now!
Until next week
TIGHT LINES
DOUG
The post Miramichi Fishing Report for Thursday, July 14, 2016 appeared first on Giver on the River.