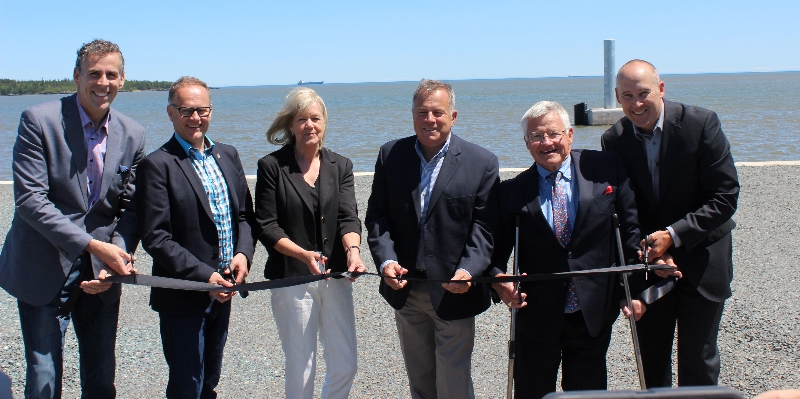 Saint John Industrial Parks officials joined provincial and federal government representatives yesterday to celebrate the completion of the Spruce Lake barge facility, anticipated by the industrial fabrication sector.
"This barge facility will definitely place us on the map as it will generate economic development opportunities for advanced manufacturing sector tenants and potential new tenants to the industrial park by transporting locally-made oversized manufactured pieces to market by waterway," said Energy and Resource Development Minister Rick Doucet. "This new important infrastructure will now provide our industrial fabrication sector the transportation link to allow them to take on large-scale projects to create economic growth opportunities and jobs in this region."
Doucet spoke on behalf of Post-Secondary Education, Training and Labour Minister Donald Arseneault, who is also minister responsible for the Regional Development Corporation.
"This completed facility marks important new beginnings for our metal fabricators who are now well-positioned to compete for major contracts in the rest of Canada, as well as along the eastern seaboard of the United States," said Saint John MP Wayne Long. "The Spruce Lake barge facility will also create numerous positive economic spin-offs, act as a magnet for other firms to locate in Saint John, and create a cluster of linked activities while generating widespread sustainable benefits for this entire region."
Long attended the event for Innovation, Science and Economic Development Minister Navdeep Bains, who is also minister responsible for the Atlantic Canada Opportunities Agency (ACOA).
The completed facility will allow oversized manufactured pieces that are too large to transport by road or rail to be transported by waterways.
The provincial government, through the Strategic Infrastructure Initiative, and the federal government, through ACOA's Innovative Communities Fund, each contributed $3 million to the project while Saint John Industrial Parks provided $2.5 million.
The project included the construction of an access road, a concrete laydown area and a wharf bulkhead.
"We are thankful for our partners past, present and future," said Lois Vincent, president of Saint John Industrial Parks. "Saint John Industrial Parks is proud to have collaborated on this critical infrastructure project with many partners, including ACOA, the Government of New Brunswick, Enterprise Saint John, Port Saint John and the City of Saint John. They had a desire to build infrastructure that would facilitate economic growth in our city and throughout the region. We look forward to successful future growth in Spruce Lake, attracting new users, fabricators and supply chain operators and bringing a wealth of job opportunities and benefits for this area."