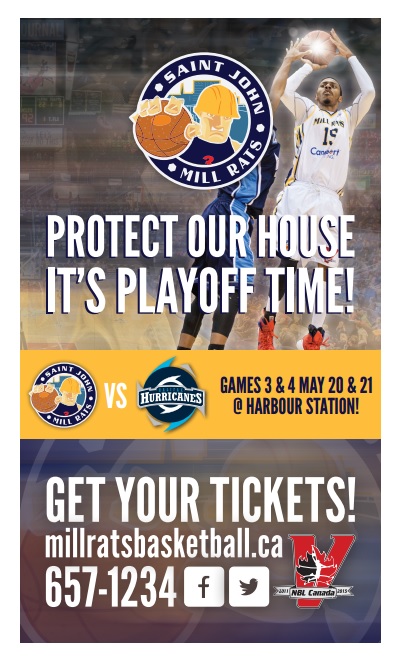 The Atlantic Division Championship has come to Harbour Station finally tonight at 7 PM as the #1 Halifax Hurricanes visit the Saint John Mill Rats, leading 2-0.
"Halifax did a great job of protecting their homecourt and we need to do the same thing at our place," said Mill Rats Head Coach Rob Spon. "If you've ever been a fan of the team, or been to a game, this is the time to come to Harbour Station, TONIGHT, and be loud and be proud!"
The Saint John Mill Rats are part of the National Basketball League of Canada.
National Basketball League of Canada founded in 2011, is a Canada's only professional basketball league. There are currently 8 teams, with 2 divisions: Central and Atlantic. The NBLC is committed to being one of the leading professional basketball leagues in the world. The NBLC provides Canadians, international athletes, coaches and officials the opportunity to participate in the game they love at the professional level. The NBLC is dedicated to raising awareness of the sport of basketball throughout Canada, by providing fans with an exciting and entertaining experience.