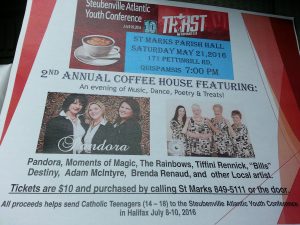 St. Mark's Catholic Church in Quispamsis will host a Steubenville Atlantic Coffee House Fundraiser on Saturday, May 21st at 7:00 pm.
Featured performers are: Pandora, Adam McIntyre, Moments of Magic (Seabelles Quartet), The Rainbows, Brenda Renaud, Tiffini Rennick, "Bills" Destiny, and possible other talent.
Tickets are $10 each and can be purchased at St. Mark's during Office hours (849-5111); at the Diocese of Saint John Office (653-6829) or by calling Joseph at 721-8258.
All proceeds from the coffee house will help pay for teens (aged 14 – 18) to attend Steubenville Atlantic in Halifax July 8-10, 2016.