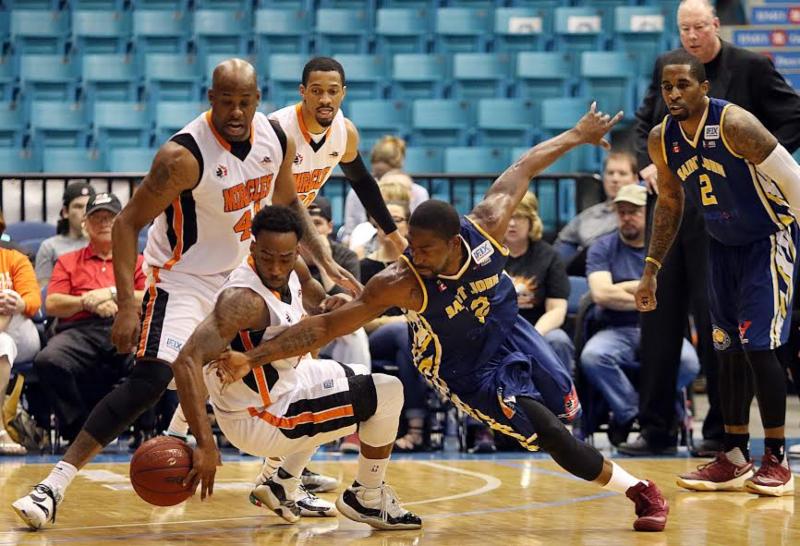 The Saint John Mill Rats won the pivotal Game 3 over the Moncton Miracles 108-97 at the Moncton Coliseum.
The Mill Rats now lead the series 2-1 and can advance with a win on Sunday at 2 PM, also at the Coliseum.
"We got a great lift from our bench tonight," said Mill Rats Head Coach Rob Spon. "And while dealing with adversity on the road that made the difference."
If Saint John does not win Sunday, then a "sudden death" winner-take-all Game 5 will be Tuesday at 7 PM at Harbour Station.
The Mill Rats got out to a great start leading 9-2. Moncton tied the game 9-9, but Saint John lead 26-24 after one.
In the second quarter, Saint John built a 10-point lead with some surprise offense from Keith Gayden, who knocked in 13 points in the quarter.   But again they succumbed to a big Miracles run to lead 51-50 at the half.
In the third quarter, the Miracles Tom Granado hit Gabe Freeman with an errant elbow to the mouth. Freeman, whose mouth was bloodied, reacted to the play and was ejected from the game.
With Freeman out and Stover in foul trouble, Gayden continued his strong play and again Saint John built a double digit lead, at 80-69 with 2:30 left in the third.  Johnny Mayhane shook off a cold first half to knock in four threes in the second half.
Anthony Anderson helped seal the deal with a three pointer of his own, Doug Herring Jr had a three point play, and Anthony Stover knocked in four straight free throws.
The Mill Rats were led by Anthony Anderson with 28 points, Keith Gayden 19, Johnny Mayhane 16, Gabe Freeman 13, and Anthony Stover 10.  Tyrdran Beaty led Moncton with 20.
Round 1 Series Schedule (Saint John leads 1-0)
Game 1: May 4th 7PM at Harbour Station (Saint John 126-98)
Game 2: May 5th 7PM at Harbour Station (Moncton 97-89)
Game 3: May 7th 7PM at Moncton Coliseum (Saint John 108-97)
Game 4: May 8th 2PM at Moncton Coliseum (if necessary)
Game 5: May 10th 7PM at Harbour Station (if necessary)