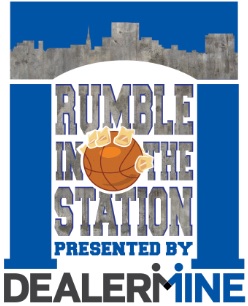 Every child deserves an equal chance to participate in sport. Dealermine and the Saint John Mill Rats have partnered up to provide a new opportunity for inner-city small schools and community basketball teams.
"We are calling it Rumble in the Station," says Ian McCarthy, Mill Rats General Manager, "To get started in sports, young people need support and we are pleased to partner with Dealermine to help our youth get a boost."
Kids need three things: the right equipment, the right training, and the chance to play. Rumble in the Station meets those needs, providing participants with new Adidas team basketball sneakers, t-shirts, a Mill Rats basketball clinic, pizza, and a friendly game at Harbour Station. The young athletes will then attend the Mill Rats game as a team that evening receiving pop and popcorn.
Robert Quirion of Dealermine states, "Saint John inner-city youth basketball teams will be the primary beneficiaries in this exciting new event. Our employees and community leaders will be onsite participating; handing out the team sneakers, lunch, and certificates. We expect to have over 100 youth in total." Participants will also receive information about how to continue with the sport, such as through the free Rising Stars Youth basketball program at the South End Community Centre.
States Carol Kelly, Mill Rats Director of Corporate Partnerships, "Rumble in the Station has been a team effort between Dealermine, PALS (Partners Assisting Local Schools), Hazen-White/St. Francis, Princess Elizabeth, St. John the Baptist/King Edward, Divine Mercy , Prince Charles, Rising Stars , Adidas Canada, 97.3 The Wave, Country 94, Dominos and us. Together we are helping families overcome barriers to basketball participation. Dealermine is an amazing new partner and we are privileged to have them on board. They bring innovative leadership and are helping us strengthen our inner city community through basketball."
The Rumble dates are set for Sunday February 28th Prince Charles vs Hazen-White/ St,Francis, Saturday April 2nd Divine Mercy Catholic School vs Princess Elizabeth, and Saturday April 9th St.John the Baptist/ King Edward vs Risings Stars. The Rumble games are open to the public.