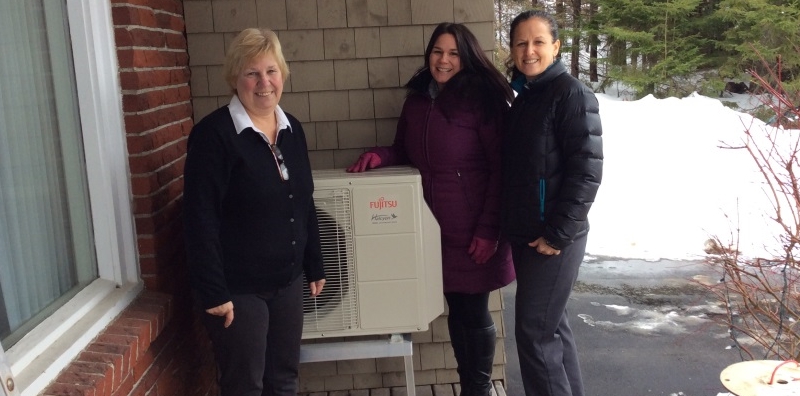 Heather Shuve was anxiously awaiting the tweet that would reveal the beginning of the Saint John Energy Mini split rental program. She had seen the RFP for a contractor in the paper and knew that it wouldn't be long before the installations began. On January 14th, she saw the tweet and quickly called to register for the program. Now, less than two weeks later, her mini split has been installed and she can start to enjoy her new heating and cooling system.
When asked for the reason she was interested in renting a mini split, Heather said, "I just purchased a new roof so a rental option was a great fit for me. I trust that Saint John Energy has done their due diligence and has hired a trustworthy contractor and product. The maintenance package is an added value and gives me peace of mind."
Saint John Energy offers three sizes of rental units: 9000, 12,000 and 15,000 BTU Fujitsu Mini Split Heat Pumps starting at $45.99 per month. This includes a yearly maintenance visit from their contractor, Atlantic Heating and Cooling.
If you are interested in the program, a representative from Atlantic Heating and Cooling will perform a free home assessment and determine if your home is a good candidate for a heat pump. Call Saint John Energy for your free assessment which will include:
Review of your electrical panel and service
Review the layout and square footage of your home
Discuss the areas where you spend the majority of time in the home
Education on the basics of how Mini Split Ductless Heat Pumps can reduce your home heating costs
The assessment takes approximately 30-40 minutes. Once complete, customers can decide if they would like to sign up for the rental program. An average installation takes four hours.
For more information on Saint John Energy's Mini Split Ductless Heat Pump rental program, visit www.SJENERGY.com or call 658-5252 for details.