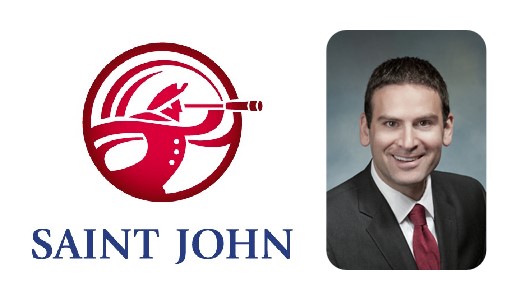 William (Bill) Edwards, P. Eng Commissioner of Transportation and Environment Services and Saint John Water has announced his retirement effective March 3, 2016.
"Mr. Edwards has been a tremendous help assisting me with my transition over the last few months. He is a true leader among staff and is a highly valued and trusted colleague. During his 30-year career with the City, he has always demonstrated a wealth of knowledge, professionalism and experience, as well as a strong commitment to public service," said City Manager, Jeff Trail. "He will be missed. We wish him the very best with his retirement."
"Mr. Edwards has worked in almost every service area in the City and has always been known as someone who is able to 'get the job done'," said Saint John Mayor Mel Norton. "His contributions are significant. In particular, his work on the Safe, Clean Drinking Water project will leave a legacy for generations here in Saint John."
Mr. Edwards began his career with the City in 1986 as Operations Engineer and held a number of increasingly senior roles including Manager and Director of City Works. He then moved to the Department of Buildings and Inspections Services, where he later served as Commissioner. He was instrumental in leading legislative changes to the Municipalities Act that resulted in municipalities having greater authority to enforce building by-laws.  He also implemented the City's award winning Municipal Energy Efficiency Program and served as Chief Building Inspector.
From 2008 to 2012, Mr. Edwards used his significant project management skills to lead the Peel Plaza project to completion.
In 2012 he was appointed Commissioner of Transportation and Environment and Chief City Engineer. The following year he was also appointed Commissioner of Saint John Water. As Commissioner of Saint John Water, Mr. Edwards worked to secure funding for the City's Safe, Clean Drinking Water project, which is the largest municipal infrastructure project in the history of the province. He directed the exploration of a groundwater supply for drinking water on the City's west side, resulting in significant cost savings to the project.
Mr. Edwards received the Queen's Diamond Jubilee Medal for his work for the Canadian Federation of Municipalities, the national voice of municipal government.
"Mr. Edwards has worked in almost every service area in the City and has always been known as someone who is able to 'get the job done'," said Saint John Mayor Mel Norton. "His contributions are significant. In particular, his work on the Safe, Clean Drinking Water project will leave a legacy for generations here in Saint John."