There is so much to learn about the world around us. I should know, I've spent the last 10 years travelling and experiencing as much as I could in 35 countries. Now, I'm returning to Canada to provide parents with a wonderful way to educate their children about people, places and cultures outside of our borders.
I was born in Saint John, NB and grew up in a military family, which meant moving to a new town every four or five years. I was an outgoing child, so exploring unfamiliar surroundings and making new friends always excited me. And that's why in 2005, choosing to sell everything I had to leave Canada and travel the world came so easily to me—much to the chagrin of my mother.
Something that became more and more clear to me with each of my yearly visits home was that nothing sparks a child's imagination quite like stories about far away countries. Whether I was sharing stories of my adventures in Canada or overseas, kids stood by in rapt attention to see pictures or hear tales about strange places.
Fast forward to March 2015. I was living in China at the time, and three business concepts had been floating around my mind for almost a year, all inspired by my own childhood:
A monthly membership program – I remember eagerly awaiting my Owl and Highlights magazine subscriptions to arrive in the mail;
A travel series – I've always been a fan of adventure movies like Indiana Jones and The Goonies;
Creating something interactive – My mind was absolutely blown the first time I wrote a letter to Santa Claus and received a reply.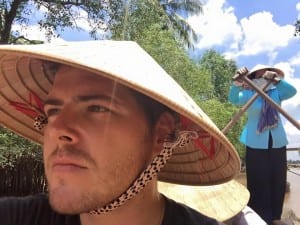 And on the evening of my birthday, it dawned on me how to combine all three. I gave myself one month to hammer out the format, logistics, mock-ups and business plan. After receiving initial seed money, I headed to Southeast Asia to film the pilot episodes and focus on developing the online content as well as the contents of the monthly packages.
That's how My Amazing Pen Pal was born. A fantastical tale where children follow the adventures of a treasure hunter travelling around the world. They can log into a website and watch his weekly videos, help him solve puzzles, and actually communicate with him. And then at the end of each month, he sends them a package filled with fun, educational materials about the country they had been learning about all month long, including the treasure they had helped him find! And some of the heavier topics (history for example) are brightened by my little companion, Merlin – a stuffed dragon that can often be seen in photos of famous landmarks or food, represented in cartoon form online and in printed materials to help explain certain pieces of information.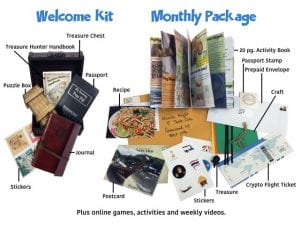 Children benefit by having their horizons broadened in math, geography, social studies and language in a fun and engaging way by a positive role model, and parents benefit by me relieving some of the burden of finding creative ways to entertain and educate their kids each month.
I've just returned home to the Miramichi in preparation for the Christmas launch of My Amazing Pen Pal, and if you'd like to find out more or sign up your child, visit www.myamazingpenpal.com.
Don't forget to follow us on Facebook where you can see lots of pictures of my travels with Merlin. Click to enlarge any of the photos below.
Meet Merlin – a stuffed dragon that accompanies Greg as he explores cities, towns and villages around the world, creating an extraordinary experience that blends fantasy and fact, online & offline, with a healthy dose of playful learning hidden inside.