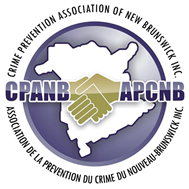 Individuals and organizations from across the province were honoured recently for their crime prevention efforts at the annual luncheon of the Crime Prevention Association of New Brunswick.
"We are incredibly fortunate to have so many organizations and individuals dedicated to crime prevention here in New Brunswick," said Public Safety Minister and Solicitor General Stephen Horsman. "The stories of those being recognized are inspiring and their commitment to crime prevention is to be commended."
Following is a list of recipients of crime prevention certificates of recognition:
Beaconsfield Middle School;
Cst. Krystal Daley, Kennebecasis Regional Police Force;
Claire Gibson, RCMP J Division;
Diane Hawkins, Department of Post-Secondary Education, Training and Labour;
Todd Horncastle, Intensive Support Program, Boys and Girls Club of Fredericton;
Kennebecasis Valley Superstore;
Lisa Keddy, Department of Public Safety, Crime Prevention and Policing Standards;
Gail McDonald, Department of Public Safety, Community Services;
Tanya Shand Memorial Milk and Cookies Fun Run, Kennebecasis Valley;
the Roundtable on Crime and Public Safety;
Rhonda Stairs, RCMP J Division, Community Program Officer; and
Cst. Cynthia (Lagacé) Coutu, RCMP J Division
Two other awards were presented at the luncheon:
Business Crime Prevention Excellence Award to Place aux compétences, Shediac; and
Constable Leo "Tyler" Francis Memorial Award to Sgt. Tammy Ward, RCMP J Division, NCO i/c Crime Stoppers Section.
More information about the awards and crime prevention is available online. More information about this year's recipients is available here.