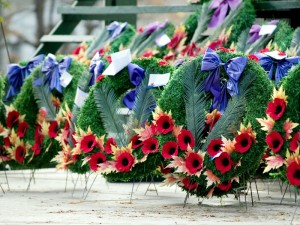 The City's Service of Remembrance is to be held at Harbour Station, 99 Station Street, Saint John, NB, Wednesday morning, November 11th.  Doors will open to the general public at 9:00 a.m. and attendees are requested to be seated by 10:10 a.m.
Since 2015 marks the 100th anniversary the iconic poem, "In Flanders Fields" will be read at this years' Service by Sophia Wilcott, a fourteen year old member of the InterAction School of Performing Arts.  The poem, written during World War One by Canadian physician Lieutenant Colonel John McRae, was inspired after he presided over the funeral of friend and fellow soldier, who died in the Second Battle of Ypres. Its references to the red poppies that grew over the graves of fallen soldiers resulted in the remembrance poppy becoming one of the world's most recognized memorial symbols for soldiers who have died in conflict.
In addition to the music, prayers, and hymns that form a major part of ceremony, there will also be the traditional two-minutes of silence followed by the laying of official wreaths.  All other wreaths from businesses, organizations, associations, and individuals, are requested to be laid at the main Cenotaph in King's Square immediately following the Central Service and Parade at Harbour Station.
Canadian singer/songwriter Terry Kelly's, Pittance of Time will be shown just minutes prior to the commencement of the official programme. Ceremonial music for the event will be provided by the 3rd Field Artillery Regiment Band, the Simonds Lions Caledonian Pipe Band, and a 100-voice choir.
"The Act of Remembrance on this important date is what is important. Recognizing "Our Fallen" of past and present conflicts and paying our respects to those who are still with us is what counts," said Lt. Bernard Cormier, Chairman of the Saint John Remembrance Day Committee.
The Saint John Parking Commission will offer free parking in the Peel Plaza Parking Garage for those attending the Remembrance Day Ceremony at Harbour Station. The garage gates will open shortly before 8:00 a.m. and close at 2:00 p.m.
The garage can be accessed from both Carleton Street and Sewell Street. It is fully accessible, with two elevators that service all levels.
On street metered and pay & display parking is free as well as City parking lots in the South Central Peninsula.
Free parking available at Brunswick Square.
"Lest We Forget"