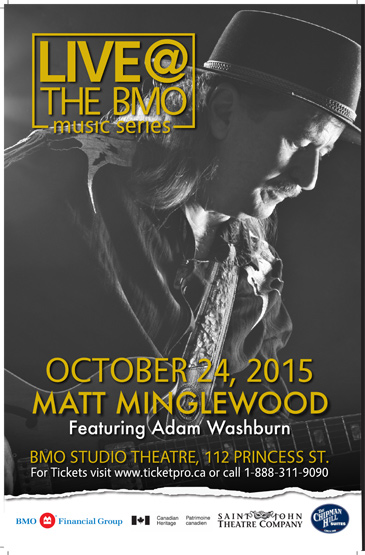 Coming this Saturday night, Saint John! Matt Minglewood, A Maritime Legend, with special opener Adam Washburn at the BMO Studio Theatre, 112 Princess Street, tomorrow night, Saturday October 24th. Doors open at 7:30 pm. Show starts at 8 pm. Tickets are $25 and available at Matt Minglewood Tickets (www.ticketpro.ca) or telephone 1-888-311-9090.
The show features Matt performing blues, rock, country and Celtic both on guitar and keyboards. Audiences will be uplifted by Matt's stories of humour and earthy reality of life on the road. Matt Minglewood has a long musical history in Canada. A fact confirmed by his exclamation: "I'm so old I have music on 8-Track!"
Hailing from Cape Breton Minglewood is a natural born musician. Learning to play the fiddle before he could read, he gravitated toward blues and rock 'n roll as a teen when he fell head over heels for the guitar. It is not difficult to hear the influences of artists such as B.B. King, Muddy Waters, Chuck Berry, Hank Williams etc. but Minglewood infuses his blues sense with the country and Celtic element that is in his bones. He began performing as a child and by the mid 60's was in the band scene. The eventual release of his first album The Red Album in 1976 put him firmly on the map. Many albums, three gold records and 50 years of  world circling road work later, at 67 years, Minglewood is still a blues and road warrior.
A great storyteller, Minglewood describes how his trusted Gibson (and it's incredible tone) was bought in 1970 for $300 and how it had suffered being run over by a bus at least twice. This would strongly imply that both guitar and master are perfect partners with many stories to tell. For all music fans with a taste for the blues, to witness Matt is a feather in the cap. You will be uplifted. Guaranteed.
Come on out and help Matt celebrate a career that has spanned five decades. Come hear the songs and enjoy the stories at this unique and intimate setting
This is #3 of 7 of the Live! at BMO Studio Theatre Series – a bold new music series presented in the intimate BMO Studio Theatre featuring a wonderful line-up of musical talent from across Canada. For more information call (506) 652-7582 or visit www.saintjohntheatrecompany.com.