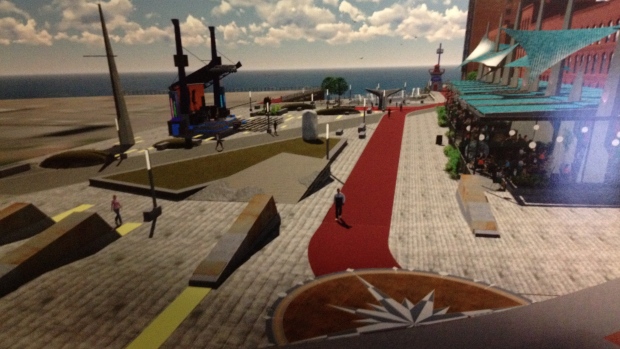 The Saint John Waterfront Foundation has a new plan to refurbish the area around Market Square and Loyalist Plaza.
It launched a $9 million capital campaign on Thursday that will be largely community driven, with a $3.4 million commitment from the City of Saint John.
The Make Your Mark on History campaign includes an architect's vision of what the site will look like, including tidal steps, floating patios, sculptures, a splash pad, programmable fountain and permanent performance stage.
"One of the most exciting things to me is the access to the water," said Michelle Hooton, co-chair of the campaign.
"You can actually walk down and be in the Bay of Fundy, you can put your feet in the water, so we've never had that kind of access before. It's just a beautiful plan."
The re-imagined Loyalist Plaza would also feature an extension of the cranberry-coloured trail, awnings atop the patio restaurants lining the boardwalk, and a mini amphitheatre.
The campaign will focus on corporate and individual donations, with opportunities for sponsorship and naming rights.
Campaign co-chair Jay Kimball hopes to have the money in hand by next summer, and construction started by September 2016.
"It's a project that we see it as a go," Kimball said Friday on Information Morning Saint John.
Hooton says the project is good value for money.
"You can spent $10 million and make a road. So we have this incredible public space that the community and visitors are going to be able to enjoy," she said.
"The plaza is 33 years old, we've enjoyed it, but it looks tired and dated, and with the amount of cruise traffic we have coming in, and that's the first thing we see, [the plan] is spectacular."