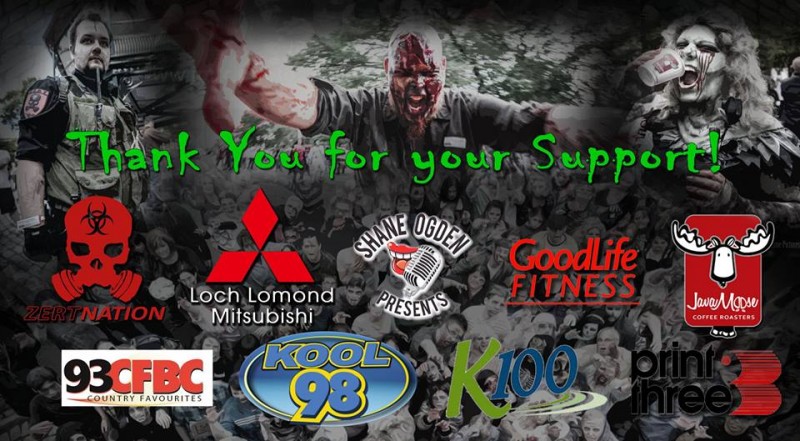 The 7th Annual Saint John Zombie Walk and Food Drive is back tomorrow, Saturday October 3rd from 3:30 to 7:30 pm at King's Square! Bring lots of food because as always all food items will be donated to The Romero House.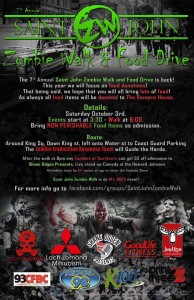 With just one day away everyone is getting super pumped about this event! But remember to stay safe! Here area a few simple rules to follow so everyone has the most enjoyable and safe walk:
Please stay clear of the vehicles when the walk is about to begin.
Do not follow too closely behind the Hearse when the walk is under way.
Nobody is to use the stairs/ ladder to the bandstand (unless they are organizers and photographers who have received prior permission).
Please make sure children are supervised at all times, we don't want any little ones getting hurt. This is especially relevant when the walk is under way with vehicles. And absolutely no children on the ladder!
No realistic props, NO GUN PROPS AT ALL (request of the City Police) any swords or knives MUST BE PLASTIC OR RUBBER and clearly fake.
Keep your blood to yourself, unless asked.
Let's all have another AWESOME WALK and tons of FUN!
After the walk, at 8 pm any Zombies or Survivors will receive $5 off admission to Shane Odgen Presents, Live stand-up Comedy at the Howard Johnson. Attendees must be at least 19 years of age to enter the Comedy Show.